This is our first issue of BUZZ for 2022. The Summer solstice has been and gone and already we're feeling the chilly winds of autumn. The eastern seaboard of our country has been racked by torrential rains with the floods in Queensland and New South Wales devasting the physical infrastructure of communities ̶ but not the spirit and resilience of the people living there. We grieve with them over the precious lives taken in the disaster and wish them well on the long road to recovery.
With the election around the corner, (on May 21st- World Biodiversity Day) it's disappointing that neither the Government nor the Opposition have put forward strong policies to reduce our carbon emissions. A video posted on YouTube some months ago (and before the most recent IPCC report) shows Why reducing our carbon emissions matters (a little story about climate change). It's only a few minutes long and well worth watching. A graphic from NASA shows the variations in global temperatures since and how the planet has warmed since 1880.
Climate change and biodiversity are linked. Work commissioned by Bush Heritage Australia predicts that by the year 2085, climate change will have affected the distribution of more than 1,700 native Australian vertebrate species.[1] The loss of habitat and climate change will also have significant impacts for pollinators.
There has been a massive loss of commercial bee hives in the floods in Queensland and New South Wales. Experts are warning that there will be ongoing impacts on horticulture beyond the immediate supply issues we are currently experiencing. This is because the scale of the loss in the apiary industry will affect pollination rates and hence may affect crop yields in the future.
While the European honey bee is the most widespread managed pollinator in the world, Australia is a biodiversity hotspot for native bees having more than 10% of global native bee species. We need to protect their habitats because they underpin our ecosystem health.
The good news about climate change is that the most recent IPCC report notes that with "the right policies, infrastructure and technology in place to enable changes to our lifestyles and behaviour … a 40-70% reduction in greenhouse gas emissions by 2050 [is achievable]." [2] Further, "…. these lifestyle changes can improve our health and wellbeing."[3] The sting in the tail is that we have a limited time to act on climate change and significantly, "cities and urban areas offer significant opportunities for emissions reductions."[4]
As David Attenborough said, "It's time for we humans to do something we're very good at — change the world."
---
[1] https://www.bushheritage.org.au/what-we-do/our-challenge/climate-change

[2] https://www.ipcc.ch/2022/04/04/ipcc-ar6-wgiii-pressrelease/
[3] https://www.ipcc.ch/2022/04/04/ipcc-ar6-wgiii-pressrelease/
[4] https://www.ipcc.ch/2022/04/04/ipcc-ar6-wgiii-pressrelease/
Luckily, one of the ways we can improve biodiversity and ameliorate carbon emissions is to plant a pollinator friendly garden. In addition to the planting guide on our website, have a read of these two inspirational stories from the Planting Seeds project and Melbourne University. Planting Seeds is building a B&B Highway for pollinators at strategic urban locations across Australia. Researchers at Melbourne University are looking at ways we can reverse the decline in insect numbers in our suburban backyards.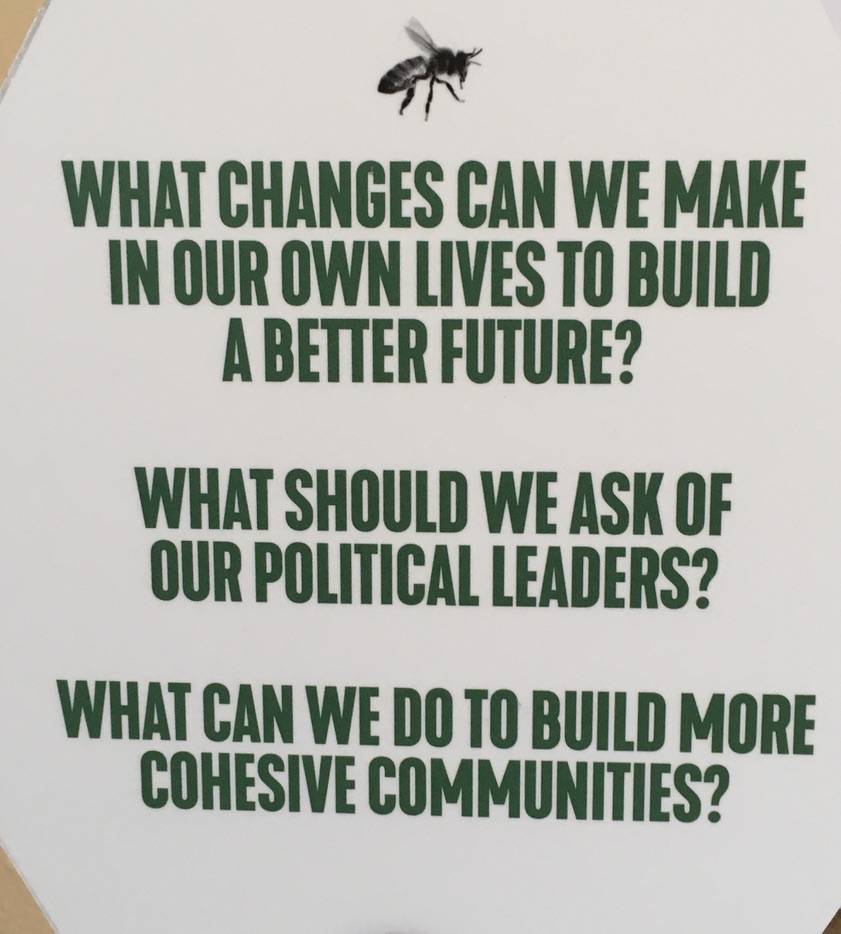 ---
Other tangible ways in which we can do our bit for reducing carbon emissions is to move more to a plant-based diet. For an analysis of the amount of greenhouse gas emissions produced by different types of food look at this amazing graphic.
Some inspiring stories on how communities in Australia are taking action to address Climate Change can be found at the Sydney Environment Institute website. Across the web, there are many sites with resources about climate change and stories based on local community and indigenous leadership informed by science. Two that we've found inspirational are Grounded and the podcast Mothers of Invention.
And let's not forget about the importance for our wellbeing of getting out into nature. The beautiful website Humans and Nature showcases stories and ideas for deepening our connection with nature. Landcare offers walks and outdoor activities to promote wellbeing and the Japanese practice of Shinrin Yoku, or "forest bathing", has been shown to have positive health benefits for mind and body. Julie is currently undergoing Forest Therapy guide training with the International Nature and Forest Therapy Alliance and can be contacted at canberraforesttherapy@gmail.com if you would like to join a 3 hour very relaxing guided Forest Therapy walk.
Save the Date – WORLD BEE DAY Celebrations in Canberra 20-21 May 2022
It's worth repeating that about one in every three mouthfuls of food we eat is pollinated by bees. Pollinator dependent crops affect 35% of global agricultural land and support the production of 87 of the world's leading food crops.
We celebrate the vital role these hard-working pollinators play in our food security with World Bee Day on 20 May 2022.
In Canberra, most of the celebrations will happen on Saturday 21 May.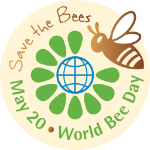 SAVE THE DATE – Saturday 23 April Canberra Organic Growers Garden O'Connor Garden Open Day
Exciting news! We will have a stall at the O'Connor Organic Growers Garden Open Day from 10 – 4pm so please mark your diaries and come and say hello.
Royal Australian Mint releases $2 honeybee coin to mark bicentenary of the industry in Australia.
"We all know we have the good 100 per cent Australian honey that's out there, people can enjoy that, but our biggest value is in the horticulture and agricultural industries, where it's been estimated that about $14.2 billion worth of crops that are grown in Australia rely on honey bees for pollination."Trevor Weatherhead, chair of the Australian Honey Bee Industry Council.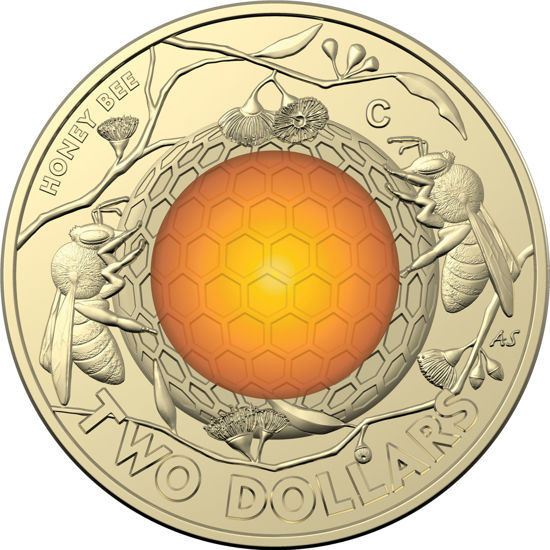 Great Reads for Adults
BUZZ: The Nature and Necessity of Bees by Thor Hanson is an informative natural and cultural history of bees. Starting 125 million years ago, Hanson tells us about all the bees that have been central to our harvests, our mythologies and our existence. Buzz shows us why all bees are wonders to celebrate and protect.
Moths in the A.C.T. by Glenn Cocking, Suzi Bond, Ted Edwards – a beautifully illustrated book to guide you through the fascinating world of moths in the Canberra region.
The Insect Crisis: The Fall of the Tiny Empires That Run the World by Oliver Milman – Three out of every four of our planet's known animal species are insects. In The Insect Crisis, acclaimed journalist Oliver Milman dives into the torrent of recent evidence that suggests this kaleidoscopic group of creatures is suffering the greatest existential crisis in its remarkable 400-million-year history.
The NLA recently re-issued Judith Wright's collection of poems, Birds with beautiful colour illustrations.
Especially for kids
Am I Even a Bee? by Dr Felicity Muth and Alexa Lindauer is the endearing story of Osmia, a solitary bee, decidedly green and unquestionably un-fuzzy. Osmia has always believed she is a bee, but recent run-ins with people, and even other insects, leave her wondering and confused. After some adventures, it turns out, there is no one way to be a bee!
For younger readers.
Let's Count Wildflowers by Tracey Gibbs is a beautiful board book for the very young featuring bold wildflowers in rhymes – 'Five kangaroo paws wave sooty, velvet hands/ Six Sturt's desert peas blaze across the sand'. For very young readers.
The Ocean Calls: A Haenyo Mermaid Story by Tina Cho and Jess X Snow is a book about intergenerational bonds, fear and love of the natural world. The heroine of the story, Dayeon, wants to be a haenyeo (free diver) just like Grandma. The haenyeo dive off the coast of Jeju Island to pluck treasures from the sea–generations of Korean women have done so for centuries. For younger readers.
Tyeena, Through My Eyes – Australian Disaster Zones by Julie Hunt and Terry Whitebeach is the story of one girl's experience of the Tasmanian bushfires. For readers aged 11+.

Interesting links and podcasts
Bee bricks become planning requirement for new buildings in Brighton (UK) Research into the importance of hygiene in bee hotels

Talking of Bees, you might want to tune into Episode 16 of the Sustainable Living podcast produced by Canberra City Farm where Keith Collis talks with Greg Dojchinov, the Vice President of the Canberra Region Beekeepers' apiary. which has a variety of different hives. The conversation covers the importance of bees for agriculture and the relationship between European honeybee, Australian native bees, and other nectar- and pollen-eating native animals.


Change of Name and Strategic Plan
For sometime now, we've been focussed on bees and other pollinators. So, we've tweaked our name – to be ACT for Bees and Other Pollinators. We've also updated our Strategic Plan to explicitly include other pollinators in our advocacy and educational work. You'll see changes on our website over the next few months.
We look forward to meeting you at an upcoming event.