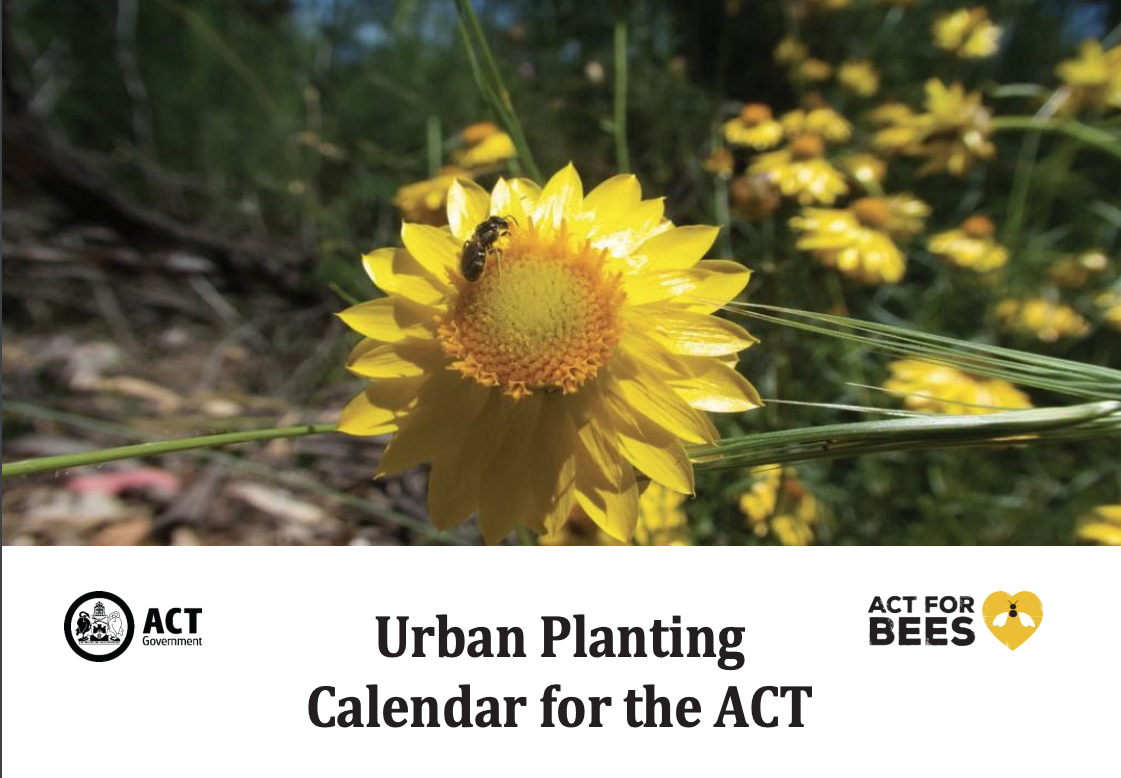 ACT Government Planting Calendar
We wanted to let you know of the launch of the publication of the ACT Government Planting Calendar in celebration of Australian Pollinator Week 2021. It's an easy to use guide of 32 pages of trees, shrubs, groundcovers and grasses which developers and all ACT Govt agencies can use to attract and support pollinators. As noted in the introduction to the publication, pollinators are the foundation of biodiversity.  This is a great guide for us all to to plan for year round flowering for pollinators (including grasses for butterflies). Please share it widely in your networks.  
POLLINATOR CORRIDORS
Pollinator corridors are plantings designed for year-round flowering for a wide range of pollinators including native bees, butterflies and moths and birds.
Native bees only have a foraging distance of 500 metres, so providing year-round flowering  (particularly December – April) is important in Summer when there are peak populations seeking a bee banquet of flowers!
ACT for Bees has been collaborating with Ginninderry development in West Belconnen to integrate pollinator corridors into the initial planning of the development and we're very excited to have the support from the ACT Government for this proposal which will support local biodiversity as well.
We've just held a very successful event in April 2021 which attracted a broad range of people from Urban Design, Landscape Architect, Planning and Development Industries – both private and government sectors
The event was focused on increasing awareness of the importance of planting for urban sustainability, biodiversity and local food production and the opportunities and challenges faced through the process!
Rebecca Vassarotti, Planting for Pollinators in Urban Design 2021
A wonderful opening address by Rebecca Vassarotti, the ACT Minister for the Environment and Minister for Sustainable Building and Construction at 'Planting for Pollinators in Urban Design' in April 2021.
Julie Armstrong. The Importance of Planting for Pollinators in Urban Design.
An overview of the issues for pollinators and what we can all do to support their health in Australian urban environments.
Karin Kemp and Olivia Ward. Planning pollinator corridors at Ginninderry for Australian native bees.
Karin Kemp of Redbox Design Group Landscape Architects outlines the details of how they planned for planting for year-round flowering for native bees at Ginninderry. Olivia shows a beautifully designed native bee hotel and pollinator garden at Kingston shops ACT.
Matthew Frawley. Planning for sustainability and pollinator corridors at Ginninderry.
A very good overview of Ginninderry development, and how they are creating a sustainable community of international significance in the Capital region. It will be sustainable over time, socially, economically and ecologically with a low and reducing ecological footprint: Ginninderry is the first development in the ACT to plant pollinator corridors in its planning process.
Cormac Farrell. Biodiversity needs Bees!
Cormac Farrell has advised on the plant species best suited for pollinator corridors with his extensive experience as an environmental scientist and beekeeper. He is also known as the Chief Beekeeper for the Australian Parliament House and oversees many beehives around Canberra. His presentation is focused on maintaining and enhancing diverse, productive pollinator networks in urban environments.
Rachel Dawes: Planning and Planting for Pollinators in Urban streetscapes 2021
Rachael Dawes, head of the ACT Government Urban Treescapes designs and plans the extensive roadside planting in the ACT. Her presentation shows the wide range of resources available to guide the choice of plants for our gardens, school gardens and wider community including food for pollinators, habitat for local wildlife, cooling and cleaning the air, improving the liveability of our streetscapes and enhancing community wellbeing.
Stephen Alegria : The ACT Government's Urban Forest Strategy 2021
Stephen Alegria, Executive Branch Manager ACT Government City Services | Transport Canberra and City Services Directorate outlines the just released ACT Government Urban Forest Strategy with a focus on cooling the urban environment and supporting biodiversity.
Climate adaption Guided Tree Selection for the Queanbeyan Palerang Shire Council Region. Important data being collected using surface heat mapping to show the effectiveness of tree canopy to cool urban areas, particularly Queanbeyan, Bungendore and Braidwood.
Julie Armstrong, ACT for Bees founder outlines the success of the projects that ACT for Bees has activated with others to raise awareness of the importance of pollinators and inspiring action. '"Love Food? Love Bees!' Australian curriculum-aligned resources created with Cool Australia have buzzed into schools to create change. Being active in World Bee Day celebrations has brought together 'bee friendly' actions throughout the community to take care of our local pollinators.