May the 20th marked World Bee Day, a worldwide holiday celebrating the importance of bees and other pollinators, with this year's celebration highlighting how vitally important they are to the world's agriculture industry. There were events held all over the world, all over Australia, and even here in Canberra.
The lead-up to World Bee Day kicked off with a hive tour and honey tasting event at the Embassy of the Republic of Slovenia on the 13th of May. There was lots of fascinating information about the history of honey and beekeeping in Slovenia, as well as broader insights into bee behaviour and biology. There was even a dog dressed as a bee! That's definitely not something you see every day of the year.
The hives used in Slovenia (and at the embassy) are called AZ Hives, and they have a number of unique advantages, such as less heavy lifting when inspecting the hive, their compactness, and the ability to inspect in all sorts of weather. In Slovenia these hives are often built into houses, or even onto trucks and buses where they can be driven around to various crops as a portable pollinating machine. The hives tend to be ornately painted with scenes from the bible, traditional Slovenian life, and gentle satires, such as hunters being chased by animals. The bright colours of the painted scenes, as well as colour-coded entrances, gives the bees a visual cue on where to return home. The fact that the AZ hives in Slovenia are driven directly to crops for pollination was a wonderful demonstration of how different regions utilise bees for their vital work of agricultural pollination. We couldn't do it without bees, and seeing how we work in partnership with them around the world was inspiring.One of the fascinating facts we learned is why beekeeping suits are white, and it has to do with how bees, humans, and bears evolved together. Bees evolved much earlier than humans, and so they don't really know what we are. They certainly know what bears are though, as bears love to steal the honey out of their hives. If you were a beekeeper and your bees caught a glimpse of you coming towards their hive in a big bulky dark suit, you'd look very much like a bear to them and they'd raise the alarm. But since bees and polar bears don't coexist, looking like a polar bear in a bright white suit is ok!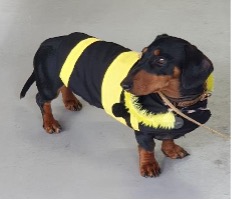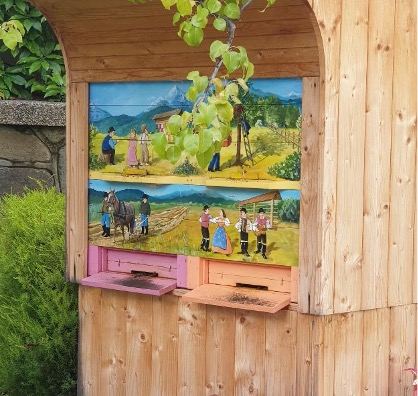 After learning about bees and bears and visiting the embassy's beautiful hive, there was a honey tasting featuring honeys from different places all around Canberra, and even some straight from Slovenia itself. There was honey from the hives at the Austrian Embassy, honeycomb from the hive we'd just seen at the Slovenian Embassy, as well as samples from hives in suburbs all over Canberra, including one from the official hives of Parliament House. There were noticeable differences in taste, colour, and thickness between each sample, with darker honeys generally having a stronger taste. The sweetest honey happened to be the one from Queanbeyan!

Crace Landcare also joined in the World Bee Day events early on 13th May with a focus on building bee hotels for native bees, free pollinator friendly plants being given away to each family , free face painting, craft table and succulent pot making for kids and an information table about Landcare and what to plant for pollinators.
Trees included Acacia, Banksia marginata, Brachychiton populneus, Callistemon sp., Eucalyptus sp., Leptospermum sp.,and groundcovers which can be planted in most gardens included Arthripodium milleflorum, Bulbine bulbosa, Crassepedia variabilis, Microseris lanceolata, Wahlenbergia sp.and Xerochrysum sp.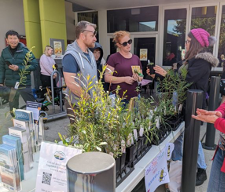 The Italian Embassy hosted the final of the lead-in events on the Friday evening before World Bee Day itself, a scientific symposium focused on the role of bees in the natural environment. The event started with some opening remarks by the team from the Embassy of Italy, followed by a tour of the hives and the bee-friendly garden that is being created around them.
The highlight of the night was a presentation by Dr Juanita Rodruiguez, Senior Research Scientist at CSIRO who took us through the diversity of native bees in Australia. The presentation featured spectacular photos of native bees from the national insect collection, a beautiful showcase of our precious native pollinators.
Dr Federica Turco, who is the collection manager at the Australian national insect collection CSIRO had brought some examples of the insect collection, including a really special specimen. During the original exploration journeys that established the theory of evolution, Alfred Russell Wallace discovered the largest species of bee in the world on an Indonesian island, dubbing it Wallace's Giant Bee (Megachile pluto). Believed to be extinct until rediscoverd in 1981, an illegally trafficked specimen was seized and donated to the national insect collection, and Dr Turco brought this along so we could see it in the flesh. An amazing example of evolution, and a link to the original age of scientific discovery.
The Italian embassy has installed a pair of Flow Hive Hybrids, which produce both honeycomb and liquid honey for events, and as frame from this hive formed the centrepiece of the food and drinks that followed the presentations.  The deserts in particular were a highlight and had been personally created by the wife of the Ambassador.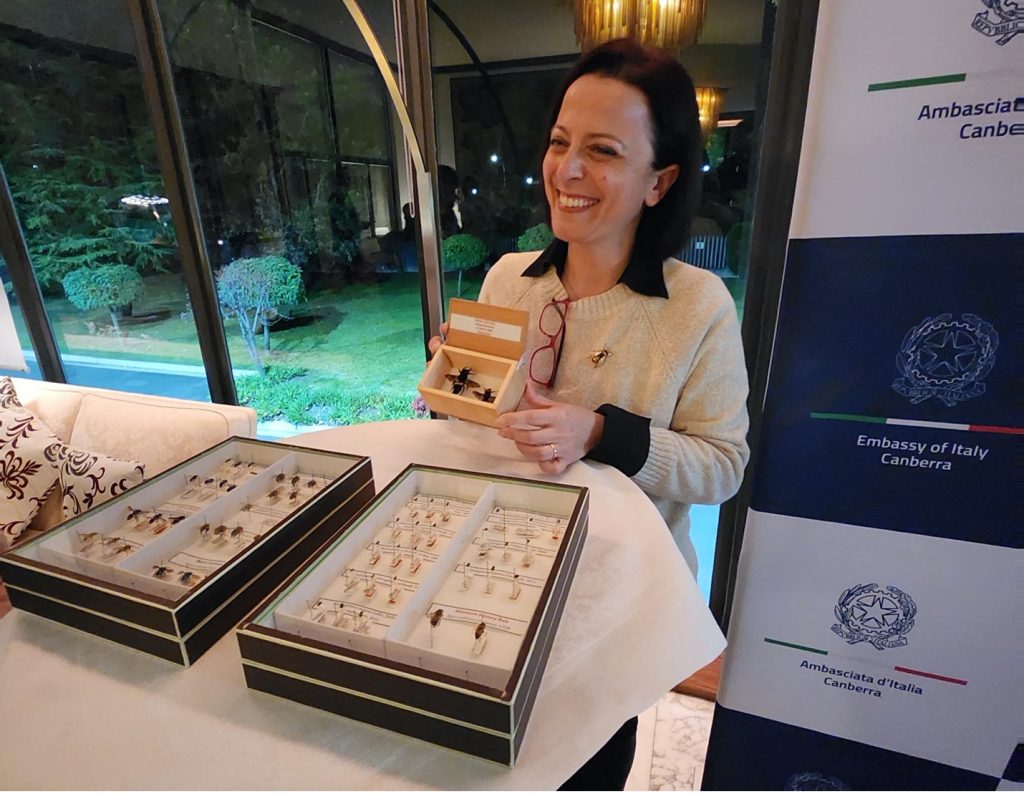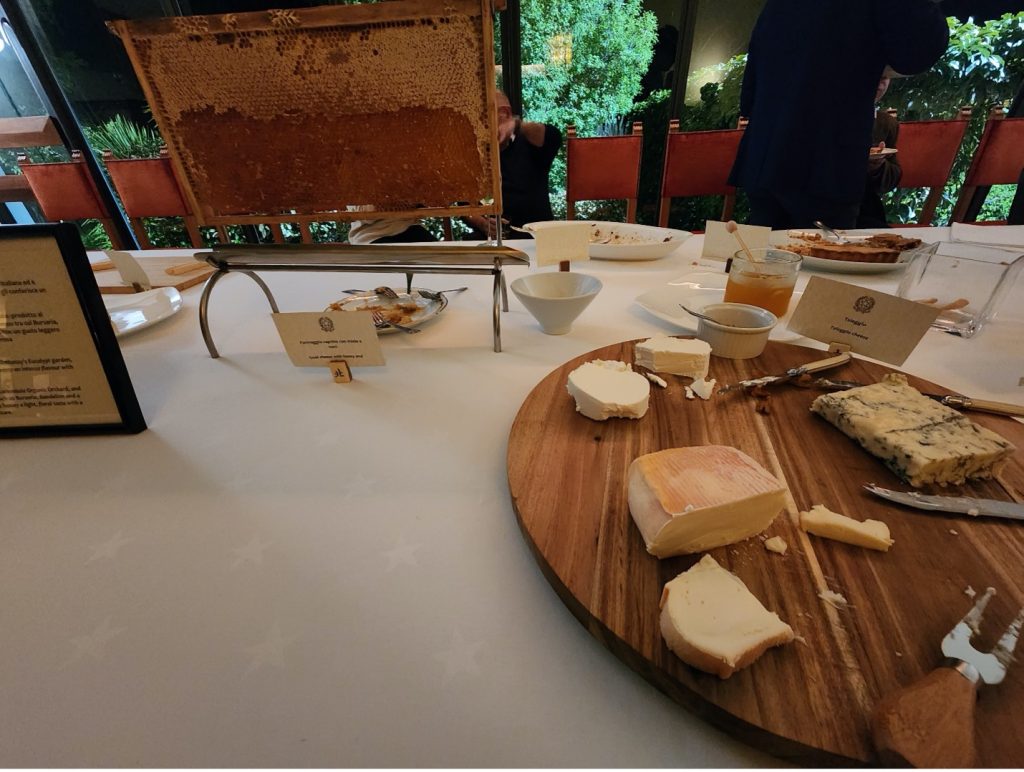 After much preparation and excitement, on May 20th it was finally time for World Bee Day itself. Capital Region Farmers Market held a bee-themed market focusing on the importance of bees to agriculture, especially in the Canberra region. There were activities for kids, stalls providing education and information, and an opportunity to sample a tradition Slovenian honey breakfast. A farmers market is a perfect to showcase the importance of bees, given how vital they are to the agriculture industry all over the world, in Australia itself, and right down to the local Canberra region. There was a bustling range of stallholders selling everything from beeswax wraps and candles, honeys, lip balm and more, to the staple market fare of fruit and veg. Whether it was a beeswax wrap or an apple, it wouldn't be there without bees and the pollination partnership we share with them.
Everyone at the markets was getting into the spirit of bee day, with so many people dressing up or dressing in yellow to celebrate. Local beekeepers were an important part of the market, with honey being so closely linked with bees in everyone's minds. It was great to hear so many beekeeping stallholders educating their customers on the importance of bees not only to the obvious industries like honey and beeswax production, but the enormous role that bees play in pollinating virtually every crop we grow here, and so many around the world. The messaging was very clear: we need bees.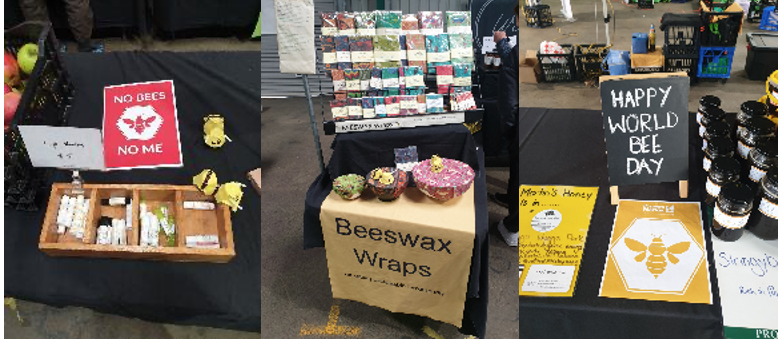 After spending a wonderfully crisp Autumn morning at the Capital Region Farmers Market, it was time to head to .beFair at the Belgian Embassy for a lively fair atmosphere celebrating everything bees. ACT for Bees was there of course, with their eye-catching bright yellow marquee full of information about our local bees, as well as bee products for sale to support the cause.
The trusty planting for pollinators board was there, informing visitors about the benefits of planting native plants for native bees, as well as helpful pictures of which plants work best.  There was something for the littlest fair-goers as well, where they could 'be a bee and pollinate the apple tree' while learning all about the importance of pollination to one of our most popular fruits. Eagle-eyed native plant enthusiasts may have spotted that rather than an apple blossom on the sign, it was in fact a stylised Westringia or coastal rosemary flower, a native favourite of local bees and one of the plants mentioned in ACT for Bees' online guides for bee-friendly native planting.
There were a range of stalls to explore, all invested in the importance of our bees. There were local beekeepers selling beeswax wraps, honey, hand creams, hand-poured candles, mead and more. There were also educational stalls from countries like Finland and Belgium, who – like Slovenia – have thriving beekeeping and honey industries. Finland's stall called back to what we'd heard one week earlier at the Slovenian Embassy's hives: when bears wake up from their hibernation in Spring they're on the lookout for tasty morsels, which might mean they brave a Finnish beehive. Apparently 150-200 beehives are lost to bears each year in Finland, so it's definitely something to watch out for there!

The Belgian Embassy was also raising money for a very important cause that day: 'Help on Bee Wings' is a charity that works in partnership with the Brotherhood of Ukrainian Beekeepers. During peacetime, they provide assistance to military veterans to train as beekeepers and ensure that the apiaries have accessibility accommodations for them. Sadly, now is not a time of peace in Ukraine, and Help on Bee Wings' efforts are focused on restoring apiaries that have been ruined or damaged in the war, helping beekeepers' families who have been forced to flee war torn areas, and supporting beekeepers themselves who have taken up arms. This more sobering aspect of World Bee Day further underlines its importance, and highlights why Slovenia championed the cause of World Bee Day so hard. Without their steadfast support of this cause, the UN wouldn't have passed a unanimous motion to institute the celebration in 2017.
World Bee Day 2023 was a rousing success. Everywhere we went there were bustling crowds, lively displays, and fresh produce. It will be exciting to see what next year holds in terms of celebration and awareness raising. As previously mentioned, World Bee Day is a relatively new holiday, having been instated by the United Nations in 2017 after much hard work and partnership by the Republic of Slovenia, and it was very apparent this year that awareness is growing about the importance of bees and other pollinators: there was certainly a lot more 'buzz' around it then there has been in previous years. Here's to hoping that World Bee Day 2024 is even bigger!
Many thanks to Ellie Kaduszyn and Cormac Farrell for writing this World Bee Day blog!