Dear Friends
An early spring is already upon us so it's time to get planting. If you're looking for inspiration, check out the ACT for Bees website which has lots of suggestions for suitable plants to attract pollinators to your garden and provide habitat and nourishment. After all, it you want to be a good host, you need to provide food and shelter for year-round comfort. You also want to attract insects to your garden. Here is a great article Garden Ecosystems: Attracting Beneficial Insects.
With the probability of an El Nino event this summer, it's important to consider water for your plants and for your visitors. Foraging honey bees will travel up to 10 kilometres from the colony to gather up pollen for hungry baby bees back at the hive. Once they've dropped off the pollen, the foraging bees go straight back out again. In summer, that's thirsty work, especially when their wings beat at 200 times per second or 12,000 beats per minute! And please remember our birds and reptiles. The graphic below has some ideas for how to provide water stations around your garden.
September is Biodiversity Month!
Australia is a special place. It is one of a group of only 17 'mega-diverse' countries.
These mega-diverse countries cover less than 10% of the world's area but have more than 70% of its biodiversity. Many of our plants, animals and places are unique and are not found anywhere else in the world.
Sadly though, over the last 200 years, more than 100 plant and animal species have become extinct and landscapes around the country have been fundamentally altered. There are currently 590 fauna species and more than 1400 flora species listed as threatened under the federal Environment Protection and Biodiversity Conservation Act 1999.
On 7 September 1936, Australia's last Tasmanian tiger, also known as the thylacine (Thylacinus cynocephalus), died at Hobart Zoo. This date has since become National Threatened Species Day and is when a spotlight is shone on all the Australian native animal and plant species that are facing similar fates to that of the Tasmanian tiger. The NSW Department of Environment has put together a terrific guide on events and activities suitable for marking the day.
Come along to the launch on Saturday 9th September to have some fun, connect with nature, and explore the beauty and diversity of the many plants, animals, bugs, fish and reptiles that also call Canberra home. And ACT of Bees will be there making native bees from natural materials for kids young and old as well as hosting our popular 'Be a Bee and Pollinate the Apple Tree' game.
Events being offered over the 3 months include:
Tour of natural temperate grassland / Box-gum woodlands with ecological experts
Wildflower identification walk
Birds and Butterflies with Biologists
Landcare 'Open Garden' day – tours of an urban Landcare or ParkCare site
Guided Wellbeing walks
Planting a pollinator friendly garden
Nature Journaling
'BioBlitz' species surveys
Cultural Interpretive walks
Environmental film nights
Sustainable school tours
To find our more go to Canberra Festival of Nature.
Canberra & Region Events
Canberra Forest Therapy Guided walk Cotter Bend Friday 1st September 1:45pm-4:00pm
In this 2 hour walk you will be guided through a series of activities that involve slow walking, tuning into nature using all of our senses, sitting and observing and enjoying feeling connection. Book here
Friday 8th September CWA Group EXPO Goulburn Friday September 8th 10:00am-4:00pm
ACT for Bees talk 11.30am
Forest Therapy Health Benefits 2:00pm More information
Sustainable Gardening Australia: Insects – Their Importance & Value in your Garden
Tuesday, September 12th 6.30 – 7.30 pm via zoom
Book here
Weston Creek Orchard Floriade & Connecting with Nature event – Sunday 17th September 11am-2pm More information
SpringFest, Saturday 23 September, 9am-2pm, Tuggeranong Uniting Church 17 Comrie st Erindale. Tuggeranong SEE Change and Tuggeranong Uniting Church invite you to a family friendly event offering a range of sustainable activities, stalls and workshops. More details here
Building Bee Hotels with ACT for Bees at the Canberra Environment Centre Saturday 11th November 1:00pm-3:00pm
We're celebrating Australian Pollinator Week by teaming up with the Canberra Environment Centre! This workshop will focus on the importance of our native bees and pollinators and show you the ideal way to host them in your yard, from what to plant to attract them to how to provide them with their perfect habitat.Learn how to build and take home your own bee hotel, along with learning all about the different types of native bees who will visit you.With assistance from the ACT Government under the ACT Community Zero Emissions Grants Program. Book here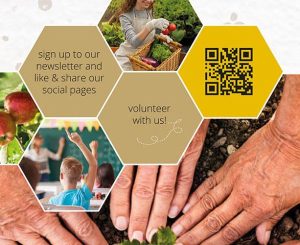 Update on the Varroa mite in NSW
Varroa mite is a parasitic mite the size of a pin head that affects European honeybees. There have been new outbreaks near Kempsey in the past 2 weeks. There is no known Varroa in the ACT, but there are restrictions on movement of hives from NSW to ACT. If you are a beekeeper, please register your hives. For more information.
Interesting Links
Fascinating research into the Psychological and physical connections with nature improve both human well-being and nature conservation: A systematic review of meta-analyses.
For a pick-me-up in the midst of gloom, take a look at The Reasons to Be Cheerful website which has good news stories about a range of topics including climate and the environment.
What is the difference between co-opting, cooperating and collaborating? And what is a "holobiont"? For answers to these and many other questions as well as links to interesting books, podcasts and people take a look at the Integral Cities website.( An Integral City is a whole living system. It is the Human Hive. As the beehive is for honey bees, the Integral City is the collective habitat for the human species).
Interested in knowing more about bee keeping practices around the world? Then take a look at 6 great videos curated by Penn State University. Countries covered include Argentina, Australia, Canada, Kenya and Switzerland.
Agrifutures recently posted a report on propolis, or 'bee glue', a nutrient-rich product discovered in honeybee hives across Australia which could generate a new homegrown health industry. University of the Sunshine Coast researchers have identified for the first time 16 types of Australian high-grade propolis brimming with enough antioxidants and other chemical properties to spark a new national industry for food and health products. Read more
A more technical article on propolis examines the quality and chemical diversity of propolis collected from various regions across Australia. Read more
For something closer to home, have a look at the lifestyle blog and beautiful photography of Annemarie, a Canadian who now lives outside Tumbarumba in the Snowy Mts.
GOOD READS
Although their brains are incredibly small–just one million neurons compared to humans' 100 billion–bees have remarkable abilities to navigate, learn, communicate, and remember. In What a Bee Knows, entomologist Stephen Buchmann explores a bee's way of seeing the world. We travel into the field and to the laboratories of noted bee biologists who have spent their careers digging into the questions most of us never thought to ask (for example: Do bees dream? And if so why?).
Jonas Salk, who developed the polio vaccine in 1953 but refused to patent it so that more lives could be saved, asked "Are we being good ancestors?" A good ancestor is someone who makes decisions that prioritize the quality of life for the lives that will come after their own. In this highly engaging book, philosopher Roman Krznaric, argues that our short term, exploitative mindsets have "colonized the future" but there are 6 ways that we can trade our shortsightedness for long term thinking. He throws the light on people who have led the way.
The History of Bees weaves three stories about the past, present, and future of beekeeping. In 1852 a beekeeper innovates a new way to keep bees; In 2007 a contemporary beekeeper wrestles with threats to our pollinators; and in 2098, in a world without bees, a woman employed as a hand pollinator must uncover what happened to her son. This theme of bees and beekeeping binds the three timelines together, as does the author's focus on the human relationships that shape our lives.
From a beguiling voice in Mexican fiction, The Murmur of Bees is about a mysterious child with the power to change a family's history in a country on the verge of revolution and the 1918 influenza outbreak. When a disfigured, abandoned child, Simonopio, is found covered in a blanket of bees, locals consider him a bad omen. His adoptive parents, however, see beyond what their neighbours fear in the mysterious child. Simonopio, who is constantly followed by his swarm of guardian bees, can see the future—the good and the terrifying
Especially for Kids
This novel set in a climate-altered future features an endearing main character, Yoly Cicerón. Yoly has ambitions to escape farm life and become a doctor. But when the benefactors who promise to make her dreams come true reveal themselves as a threat to her family and their way of life, Yoly turns to her grandmother's wisdom about the mythic bees. In a world where everyone is hyperconnected by technology, Yoly and her sister make it their mission to learn from the bees so they can save their family and community. Suitable for ages 8+.

A child's day in the garden with their Gran and Pa leads to a wonderful exploration of pollination ̶ how it happens and the importance it has for our environment. Meet the animals involved in pollination and the plants that depend on pollination to produce our fruit, vegetables and our clothes! Suitable for children aged 5 to 9.
We hope that you will make time to share your joy of being in nature with children. Please invite them to go bee spotting or join in the feasts of opportunities in the Festival of Nature this Spring! We'd love to hear what you have experienced!