Australian Pollinator Week November 12th – 20th is just around the corner and we wanted to share with you the great programme of activities we have in store for you! As we've said before, bees and other pollinators need our help, and there's so much we can do in our own backyards.

First though, we must acknowledge that with the recent heavy rains over the eastern part of Australia, some communities are doing it very, very tough. Widespread flooding – in some cases for the third or fourth time within 12 months – has destroyed homes and livelihoods. We acknowledge the hardships being experienced and wish all those affected, strength and resilience.

Pollinator Week will run from 12-20 November 2022. Check out the national programme here so that you can "BEE Friendly". You can also check out some of the wonderful resources designed to improve our understanding of pollinators and activity sheets for kids and adults here. And don't miss Amelie Ecologie's POP BEE'ts songs for the pollinators. HERE
We're running a couple of our own workshops during Pollinator Week and we'd love you to join us.Upcoming Events
Kambah Community Organic Garden Open Day and Organic Seedling Sale Saturday 5th November 10 am -3pm
Cnr Springbett St & O'Halloran Circuit, Kambah ACT
Build your own Native Bee Hotel Workshop Sunday 13 November 1:30-3:30
We're very excited to team up with the 'Landcare Wellbeing' program to hold an Australian native bee workshop to learn more about the wonderful range of species we have in Canberra and the region. We're very fortunate to have native bee expert, Peter Abbott, to share his knowledge. Peter has been a regular visitor to the Australian National Botanic Gardens over the years and has identified more than 150 species of native bees in that beautiful environment and giving us tips on what we can do to provide a bee friendly environment for them.
Participants in the workshop will be making a simple bee hotel which has the right dimensions for our local bees. Sadly, many of the bee hotels available commercially, are unsuitable for native bees because the holes are too short and/or are made of inappropriate materials.
So come along and make your own bee hotel to provide BnB accommodation in your garden!
Book here for the Native Bee Hotel Workshop.Some general cavity diameter and depth recommendations for attracting tunnel nesting bees are as follows:3 mm hole, 70 mm deep (few species)5 mm hole, 120 mm deep (most commonly used)6 mm hole, 150 mm deep (most commonly used)8 mm hole, 150 mm deep (most commonly used)13 mm hole, 150 mm deep (few species)Ref: NSW Department Primary Industries Ag Guide. A Practical Handbook. Australian native bees 2016
Habitat for Wildlife Event and Propagation Workshop Thursday, 17 November 4:00-5:30
This Habitat for Wildlife event with the Molonglo Conservation Group and ACT for Bees is all about how we can help create a habitat network for pollinators.
For any green thumbs, we'll be doing some propagating to increase the habitat network in Coombs and its surrounding suburbs. This will include a variety of herbs that you'll be able to use as much as our bees!
Meet Friends of Molonglo Green Spaces and hear about opportunities in the area to volunteer, enjoy a BBQ in the cottage's beautiful garden while the children take part in some pollinator themed activities and chat with other bee and garden lovers.
Book here for Habitat for Wildlife Workshop.And especially for kidsLil' Greenies Learn all about Bees with ACT for BEEs – 19 November 2:00-3:30
ACT for Bees and Other Pollinators member and bee keeper, Mark Patterson will introduce kids to the amazing world of bees. Mark has extensive experience working with children and is sure to excite them about these amazing insects. Suitable for ages 5-12 years.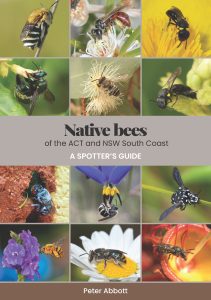 Launch of Book on Native Bees of the ACT–Saturday 12 November 3:00pm
During Pollinator Week, Peter Abbott, an expert on native bees, will be launching his book on Saturday 12 November. He has generously issued an open invitation to all native bee lovers to attend. Further details below.
What We've Been up toAn exciting new project is running on the Canberra Nature Map. "Help us help our Pollinators! ACT for Bees wants to know about the kinds of insects visiting flowers to design better plantings for pollinators and understand insect-plant interactions." Register or login to the CNM and go to HERE to upload your photo.
Julie was interviewed by Emma Bickley on ABC Radio "One Small Thing" early in October and you can hear that wide ranging and interesting interview here. Meredith spoke on Radio Landcare in August. Keep an eye out for that talk here.
While we're here, we thought we'd share some photos from recent events around Canberra where ACT for Bees and Other Pollinators has spread the word.
This year's Floriade we teamed up with Fiona from the Canberra Environment Centre to share 2 sessions about creating Bee and Pollinator Friendly Gardens. Many thanks to Rhonda and Fiona for presenting at the first session and Lynne with Fiona for the 2nd Session. We love sharing how to create Pollinator Friendly Gardens at Floriade!
Interesting Books to Read
The Mind of a Bee by Lars Chittka. Building on 30 years of research, in The Mind of a Bee, you will read that bees feel emotions and pain, display metacognition (that is, they know what they know), and show individual differences in their ability to learn, with fast and slow learners. Bees are aware of their bodies and the outcomes of their actions, and they display intentionality through tool use – previously only recognised in humans, primates, and the corvidae family of birds. This is a fascinating read and we have a link to a seminar Chittka gave to the Linnean Society in our web links below.

A Guide to the Creatures in Your Neighbourhood: The Urban Field Naturalist Project.
Tune in to the richness and diversity in your local environment with this playful, quirky guide that's packed with interactive projects, nature writing and sketching activities.
Did you know crows can identify humans by their faces? Or that ibises can 'see' with the tips of their bills? Let the team from the Urban Field Naturalist Project amaze you with weird and wonderful facts about cockatoos, magpies, spiders, possums and other animals just outside your doorstep. Then get inspired to cultivate a deeper connection with tips for observing, sketching, photographing and making field notes – or simply sitting still to observe and listen.

A Trillion Trees by Fred Pearce. Natural history and adventure travel collide in this powerful book about the decline and recovery of the world's forests–with a provocative argument for their survival. In A TrillionTrees, veteran environmental journalist Fred Pearce takes readers on a whirlwind journey through some of the most spectacular forests around the world. Along the way, he charts the extraordinary pace of forest destruction, and explores why some are beginning to recover. With vivid, observant reporting, Pearce transports readers to the remote cloud forests of Ecuador, the swamps of Indonesia, the remains of a forest civilization in Nigeria, a mystifying mountain peak in the middle of the Atlantic Ocean. And he interviews the people who traditionally live and depend on these lands: Indigenous Amazonians, Nepalese hill dwellers, Kenyan farmers, and West African sawyers. They show him that forests are as much human landscapes as they are natural paradises.

Star the Elephant by Remy Lai. Inspired by true events, this early reader graphic novel series comprises stories of animals heroically escaping dangerous situations that have arisen due to man-made environmental changes, beginning with Bima the Elephant.
Mark, Julie and Steven at Woden's 60th Birthday celebration. Thanks for your support!Some interesting websites and links
We mentioned the fascinating new book The Mind of a Bee by Lars Chittka. If you're feeling time poor but would like to get familiar with some of the fascinating insights into the mind of a bee, have a look at this powerpoint presentation organised by Chittka to the Linnean Society. It summarises the key theses of the book in a delightful presentation. Here

New Sustainable Gardening Digital WiseGardening shows the risks of garden chemical products to humans, birds, bees, frogs and other species when you use them to control pests, diseases and weeds and helps you choose wisely. If you'd like to see what choices you have when it comes to pest control, then this guide might be useful. You can download to your phone for easy access to information about safe garden chemical choices.
Did you know that many household and agricultural chemicals used in Australia have been banned in Europe and in the US and that the recommended safe dosages in Australia remain much higher than in those jurisdictions? Further details in a couple of articles from The Guardian.
Australian Food is grown with dangerous chemicals banned in other countries
Gardeners beware household chemicals banned overseas are still used in Australia
Still on chemicals, a Narromine farmer who has raised awareness about the impact of agricultural spray drift on native vegetation has won this year's prestigious Bob Hawke Landcare Award.
Landcare winner investigation agricultural spray impacts
Wonderful fact sheets about Native Bees produced by the Clarence River Landcare Group as part of their community education programme are available online. Clarence River native bees community education resource guide
For an excellent explanation of varroa mite and how it affects honey bee hives, see HERE
For some very interesting community projects in North America recognised in the National Pollinator Awards. BEE inspired! HERE
While this little booklet about the medicinal, nutritional and technological use of Indigenous Plants by Zena Cumpston in focussed on plants endemic to the Melbourne region, there's plenty in it of broader interest.
Indigenous Plant use
We hope that you will support us by attending one of our events and planting for pollinators in your garden or balcony and please come along to one of our events.
Learn how pollinators affect food security, biodiversity and healthy ecosystems!
Grow a pollinator friendly garden with year round flowering plants !
Share your experience and knowledge with others in your community.