The changing leaves of the introduced trees herald autumn, always a beautiful season in Canberra. We give thanks for the gentle, plentiful rain in the Canberra region over recent months. We wish the many thousands of people around the country affected by catastrophic floods, fortitude and resilience in the months ahead as they set about restoring property and tending to their emotional and mental well-being.

The sheer force of natural elements can sometimes blind us to the fragility of many environments. The ACT is home to a huge range of plants, animals and eco systems. While more than half of the territory's entire land area is protected in the National Reserve System, suburban gardens and urban green spaces can be important sanctuaries.

Our focus this year in ACT for Bees is on biodiversity. Specifically, we're focussed on how urban spaces and suburban gardens can be places of beauty as well as ecological abundance. Two projects we've been inspired by are Gardens for Wildlife Tasmania and Gardens for Wildlife Victoria. Read on to find out more about our successes so far this year and our plans to promote increased biodiversity in urban areas.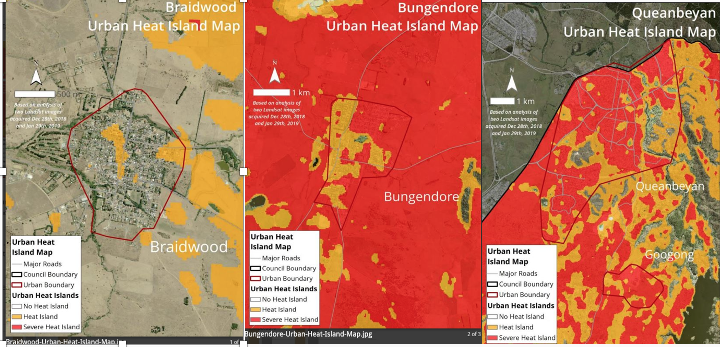 The Queanbeyan Palerang Council recently published findings on heat mapping in urban areas. The report found that urban areas like Queanbeyan, Googong, and Bungendore are significantly hotter than natural areas such as the Tallaganda National Park. The maps above show how Braidwood's extensive planting with old trees creates a very different cooler environment. For further information see Keeping it Cool – Vegetation and Heat Adaptation Strategy'

Great Books to Read
To celebrate ACT Tree Week, we've pulled together some great reads on trees.

A few years ago, Peter Wohlleben published The Hidden Life of Trees: What they Feel, How They Communicate – Discoveries from a Secret World. If you've not read this fascinating book, we recommend you do so.
Now, there's a children's book based on Wohlleben's research called Can You Hear the Trees Talking? This interactive and illustrated book for kids aged 8-10 introduces the wonderful science of the forest through outdoor activities, quizzes, fun facts, photographs, and more!

The Global Forest: 40 Ways Trees Can Save Us by Diana Beresford-Kroeger
A world expert on how trees chemically affect our environment, Diana Beresford-Kroeger has woven together ecology, ancient myth, horticulture, spirituality, science and alternative medicine in The Global Forest to capture their enormous significance to us and our future.

The Overstory by Richard Powers
The Overstory, winner of the Pulitzer Prize in Fiction, is a sweeping, impassioned work of activism and resistance that is also a stunning evocation of – and paean to – the natural world. From the roots to the crown and back to the seeds, Richard Powers' twelfth novel unfolds in concentric rings of interlocking fables.

Interesting websites
Keep to the Path – The premise of this Australian site is that because human behaviour is the cause of so many environmental problems, shifting how people behave is key to achieving a future in which people better value and better protect nature. It has nifty summaries of the latest research in conservation psychology.
Healing Forest -This US site has a range of useful resources. Read how flowers can teach us better communication skills An interesting article on how suburban gardens can be rich ecological places is in the Australian online newsletter The Planthunter