The changing leaves of the introduced trees herald autumn, always a beautiful season in Canberra. We give thanks for the gentle, plentiful rain in the Canberra region over recent months. We wish the many thousands of people around the country affected by catastrophic floods, fortitude and resilience in the months ahead as they set about restoring property and tending to their emotional and mental well-being.

The sheer force of natural elements can sometimes blind us to the fragility of many environments. The ACT is home to a huge range of plants, animals and eco systems. While more than half of the territory's entire land area is protected in the National Reserve System, suburban gardens and urban green spaces can be important sanctuaries.

Our focus this year in ACT for Bees is on biodiversity. Specifically, we're focussed on how urban spaces and suburban gardens can be places of beauty as well as ecological abundance. Two projects we've been inspired by are Gardens for Wildlife Tasmania and Gardens for Wildlife Victoria. Read on to find out more about our successes so far this year and our plans to promote increased biodiversity in urban areas.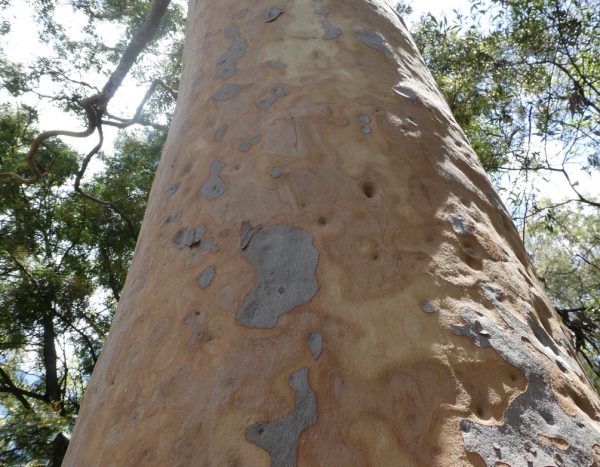 Why Are Trees Important in the City?
"A single large tree produces enough oxygen for twenty people to breathe…and they collect > 500 kgs of soot from car exhausts or chimneys…Urban trees are also important for cooling our climate. In the heat of summer, trees create cooler air in the city, the same way they do in the forest and they can make us feel more relaxed and happier…Trees make our place a more pleasant and healthier place to live, but unfortunately, we don't always make things easy for them!"
Peter Wohlleben Can You Hear the Trees Talking? Discovering the Hidden Life of the Forest (Young Readers Edition of the Hidden Life of Trees)
ACT Tree Week
After a hiatus in 2020 due to COVID-19, Canberra Tree Week is returning in 2021 and will be held from 1-9 May 2021 with many great events happening across the ACT. It's a celebration of all the beautiful trees in Canberra and an opportunity to learn more about them. Check out the program at ACT Tree Week. To illustrate the importance of trees in militating against some of the adverse effects of climate change, two recent local documents are noteworthy. The ACT's first Urban Forest Strategy was released on 30 March 2021 and will guide the growth of our urban forest and maintain a resilient, diverse and sustainable tree canopy.
Currently, around 19% of the ACT's urban area has canopy cover with significant variations between older and newer suburbs. The ACT Government has set a target of increasing the tree canopy to 30% by 2045 across the urban footprint. This means planting over 450,000 trees on public land over the next 25 years. The report notes that there will be significant challenges in meeting this target as a broader variety of tree species that are likely to be better adapted to climate change will be needed to conserve biodiversity and eco-cultural values while reversing the decline caused by forest aging.
Urban Heat Island Maps for our Region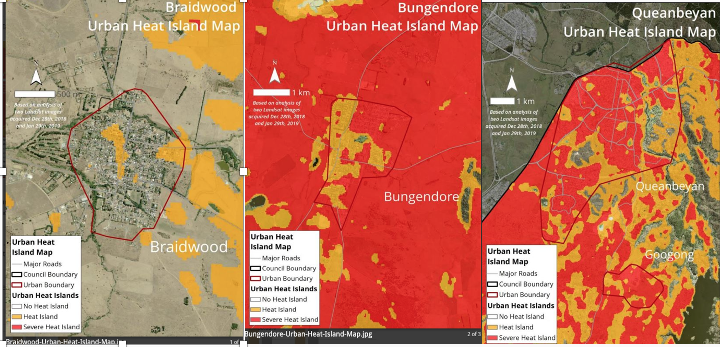 The Queanbeyan Palerang Council recently published findings on heat mapping in urban areas. The report found that urban areas like Queanbeyan, Googong, and Bungendore are significantly hotter than natural areas such as the Tallaganda National Park. The maps above show how Braidwood's extensive planting with old trees creates a very different cooler environment. For further information see Keeping it Cool – Vegetation and Heat Adaptation Strategy'

Great Books to Read
To celebrate ACT Tree Week, we've pulled together some great reads on trees.

A few years ago, Peter Wohlleben published The Hidden Life of Trees: What they Feel, How They Communicate – Discoveries from a Secret World. If you've not read this fascinating book, we recommend you do so.
Now, there's a children's book based on Wohlleben's research called Can You Hear the Trees Talking? This interactive and illustrated book for kids aged 8-10 introduces the wonderful science of the forest through outdoor activities, quizzes, fun facts, photographs, and more!

The Global Forest: 40 Ways Trees Can Save Us by Diana Beresford-Kroeger
A world expert on how trees chemically affect our environment, Diana Beresford-Kroeger has woven together ecology, ancient myth, horticulture, spirituality, science and alternative medicine in The Global Forest to capture their enormous significance to us and our future.

The Overstory by Richard Powers
The Overstory, winner of the Pulitzer Prize in Fiction, is a sweeping, impassioned work of activism and resistance that is also a stunning evocation of – and paean to – the natural world. From the roots to the crown and back to the seeds, Richard Powers' twelfth novel unfolds in concentric rings of interlocking fables.
Ginninderry Project
A very successful workshop was held on 16 April at Ginninderry on Planting for Pollinators: Maximising Biodiversity in Urban Design. This conference was specifically targeted for those within the Urban Design, Landscape Architect, Planning and Development Industries – both private and government sectors and included speakers from industry and government to inform why pollinator corridors are important, the planning process including how RedBox Designs planned for 200 metre grids of year-round flowering for native bees, the use of ACT Govt Plant Species for Urban Landscape Projects, climate adaptation and tree selection and community support. If you missed the coverage in the Canberra Times, keep an eye on our website for a new page 'Pollinator Corridors' coming soon with videos from the event and research about pollinator corridors in different places in the world. Thanks to all the wonderful speakers, Ginninderry and the Australian Institute of Landscape Architects for their support. We look forward to seeing increased planting for pollinators and biodiversity in the region.

Interesting websites
Keep to the Path – The premise of this Australian site is that because human behaviour is the cause of so many environmental problems, shifting how people behave is key to achieving a future in which people better value and better protect nature. It has nifty summaries of the latest research in conservation psychology.
Healing Forest -This US site has a range of useful resources. Read how flowers can teach us better communication skills An interesting article on how suburban gardens can be rich ecological places is in the Australian online newsletter The Planthunter
Save the date!! World Bee Day 20 May 2021
The programme of events for World Bee Day is currently being finalised and the World Bee Day Australia website has the details which will be updated regularly. If you want to hold an event, please let them know. Most events in Canberra will be held on 22 May which just happens to be World Biodiversity Day! We Need Bees: Food Security, Biodiversity and Healthy Ecosystems!