ACT For Bees Success With ACT Government
Exciting news! The Australian Capital Territory (ACT) Government has adopted ACT for Bees additions in their review of the ACT Government MIS25 Urban Landscape Planting List.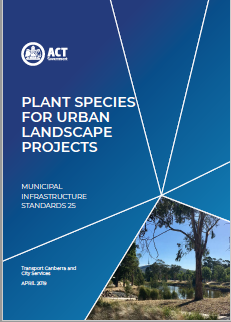 Developers and government bodies can only use plants on this list. The list now includes our data on flowering times, nectar, pollen, seed resources, the species of forager (whether it be bees, butterflies, birds) and habitat for native mammals. It guides choosing plants for flowering throughout the year, which species are the best for long periods of flowering and also indicates medium or high nectar and pollen production. The review focussed on selecting species which are suited for an increasingly hot climate.
We are working towards 'Bee Friendly Canberra'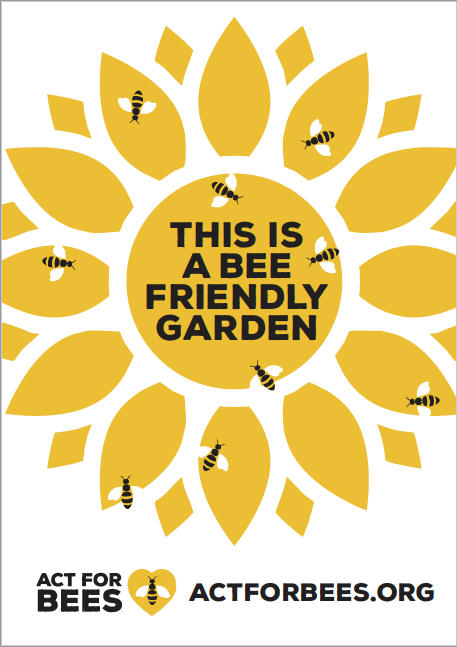 City where the Government promotes 'Bee Friendly' practices for the sake of biodiversity, public health, water and soil health
City with best practice pesticide legislation.
City where Parks and Gardens staff use integrated pest management.
City where schools create and maintain kitchen garden programs and 'Love Food? Love Bees!' curriculum adopted by schools.
City where there is clear and accurate labelling of 'Bee Friendly' plants which have not been treated with pesticides and promote bee friendly practices.
City where street plantings are chosen for pollinator forage.
City where pollinator corridors are created across the city through careful planting and individuals, businesses, institutions and community groups pledge to create pollinator safe habitat in their gardens.
Where the public are educated to minimise pesticide/ herbicide use.
Please contact us if your business, school or community group would like to join us!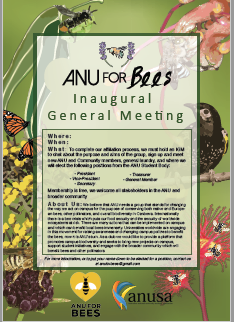 ACT for Bees partnerships: We are very excited that the first group to join us is ANU for Bees (Australian National University). They got off to a busy start at the end of last year by planning and planting a pollinator friendly garden around the Canberra Environment Centre, thanks to a grant from the ACT Government. Stay tuned for more pollinator plantings on World Bee Day Sunday May 19th!
World Bee Day celebrations Sunday May 19th 2019:
Keep your ears open for the buzz which is happening as we again prepare for BIG celebrations of pollinators at Parliament House and at the Swedish Embassy. The Embassy of the Republic of Slovenia in Canberra, The Embassy of Sweden, The Embassy of Switzerland, and other Nordic Embassies including Denmark,Finland, Norway,  and Estonia, Parliament House, Canberra Region Beekeepers, Capital Region Farmers Market, Hall Rotary, Australian National Botanic Gardens and Bush Blitz, Wheen Bee Foundation, Australian Honey Bee Industry Association, Rotary for Bees, Pure Pod, CSIRO, IKEA and Bunnings.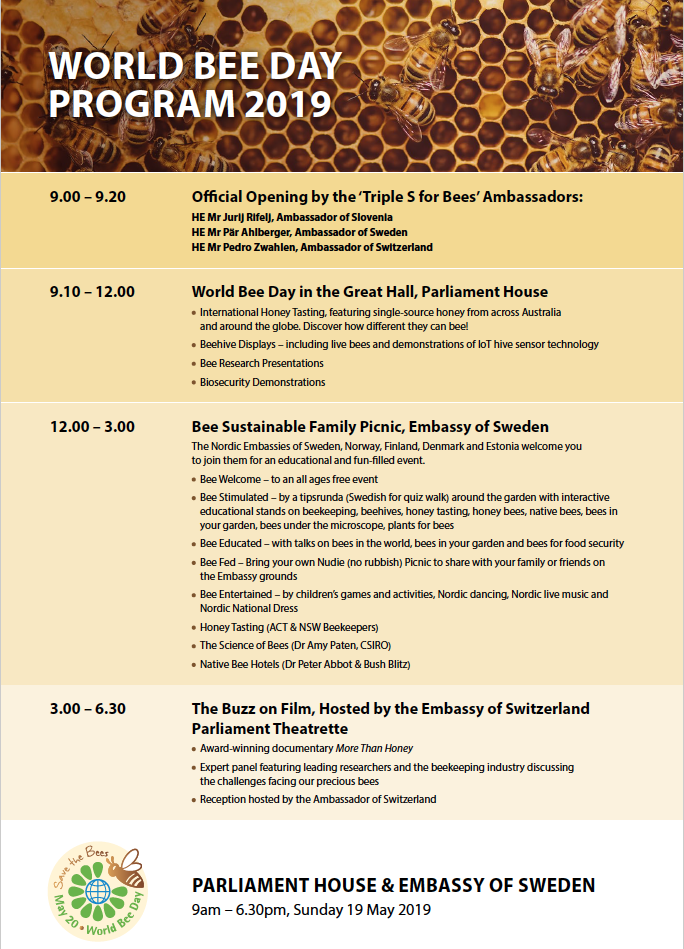 BeeSustainable, World Bee Day 18 May 2019
The Nordic Embassies of Sweden, Norway, Finland, Denmark and Estonia welcome you to celebrate BeeSustainable, World Bee Day 2019
Join us for an educational and fun-filled event 12pm – 3pm on Sunday, 19th of May 2019, at the Embassy of Sweden in Canberra.
Bee Stimulated – by a tipsrunda (Swedish for quiz walk) around the garden with interactive educational stands on beekeeping, beehives, honey tasting, honey bees, native bees, bees in your garden, bees under the microscope, plants for bees.
Bee Educated – with talks on bees in the world, bees in your garden and bees for food security
ACT for Bees Facebook page and World Bee Day Australia 2019
Partnered with ACT Govt at Bush Friendly Stall at 2016 Floriade and built a bee hotel for the stall which is now at 'Ginninderry' development in West Belconnen outside The Link.
We're collaborating with Ginninderry to create 'Pollinator Corridors' of year round flowering for bees and other pollinators, birds including threatened migratory species and small mammals.
Run a 'number of Bee Friendly Backyards' workshop at The Canberra Environment Centre.
Educated a range of organisations with our  30 minute 'Bee Friendly Gardens' PowerPoint. Please contact us if you would like us to come to your business and share the importance of bees and why we qall need to be taking action for them!
Visited a range of schools to share the wonder of bees with primary students. Please invite us along if you are doing a unit on bees and sustainability.
Attended Natural Beekeeping workshops with the Beekeepers of ACT Association.
Built a Warre Hive with Warren for display at education stalls.
'The Bee Friendly Plant Stall' at The Orana Spring Fair has a section with a wide range of plants that are pesticide free and fantastic for bees.  Weston (ACT) 2nd Sunday in November (13th November 2016).
'Back To Earth' Radio program 98.3fm Fridays at 2pm once a Season Rhonda Whetham and Warren Clendenning talk about Bees Business…
Appeared in 'The Hungry Gardener' podcast speaking about the importance of bees for our world .
Created a short puppet play on the importance of bees with students to present to 'Kids Teaching Kids 2015 Week' at the National Zoo & Aquarium.
Marched for 'The Bees' at The Peoples Climate March in February 2016
ACT for Bees and Canberra Biodynamic Gardening group have recently started managing the Weston Community Orchard  in co-operation with ACT Govt. Come and join us at working bees to learn more about organic and biodynamic methods to maintain fruit trees and restore the health of the soil.! The 3rd Sunday of the month. See Facebook Weston Community Orchard for details
We have partnered with  'Cool Australia- Learn for Life' to create an exciting 'Love Food? Love Bees!' curriculums for Early Childhood, years 5/6 and High School as well.  They can be downloaded from the Cool Australia website and taken straight into the classroom & also practically outside in the garden! We love the way Cool Australia curriculums are easy to use, focussed on sustainability and empower students to take action for the good of the world. Check out these curriculum materials through our website.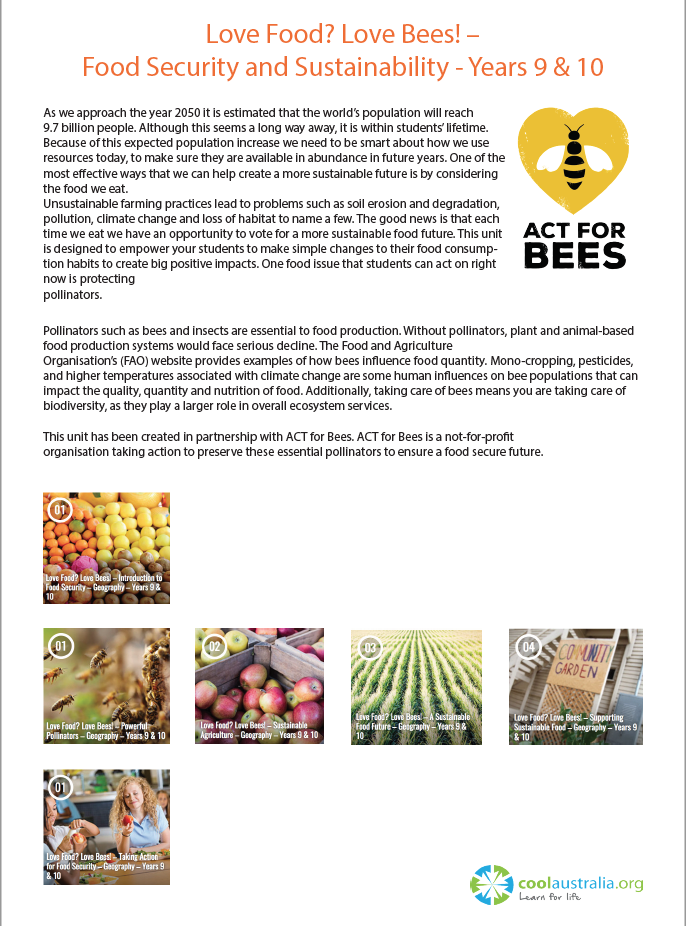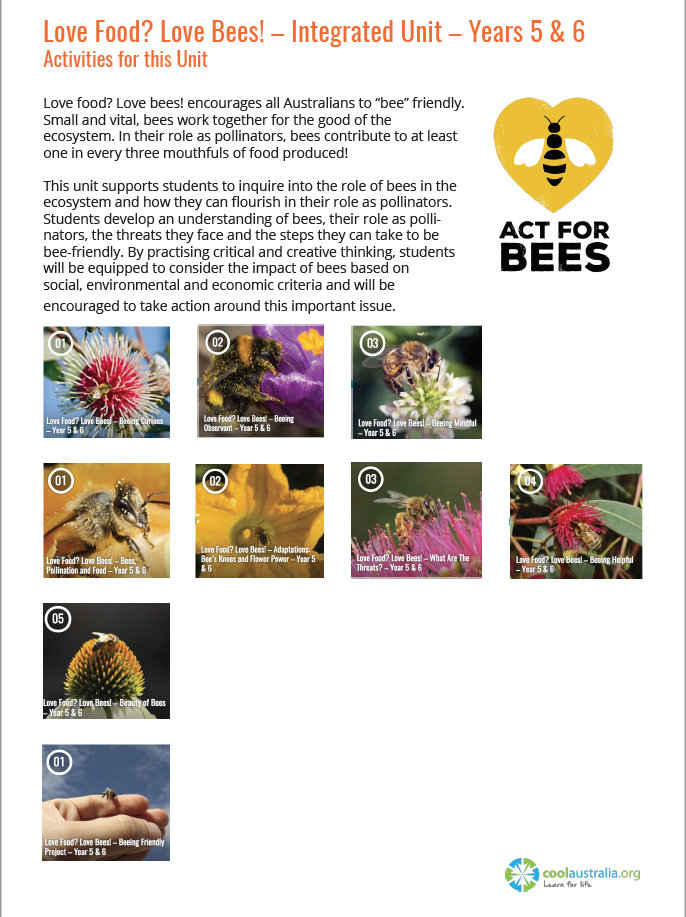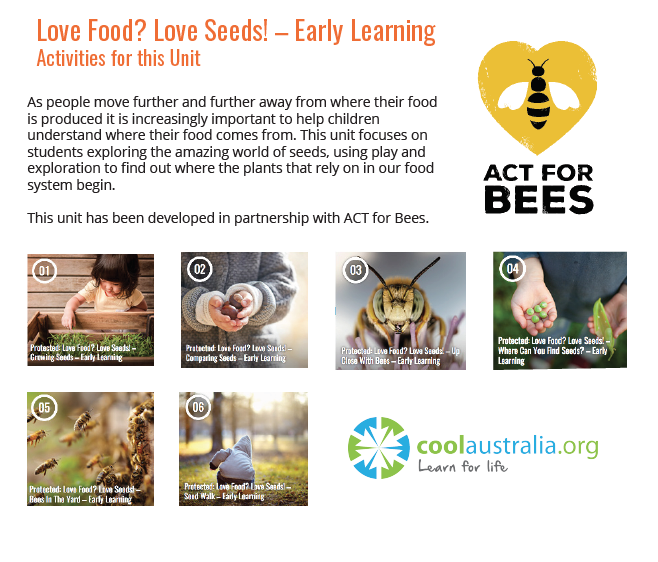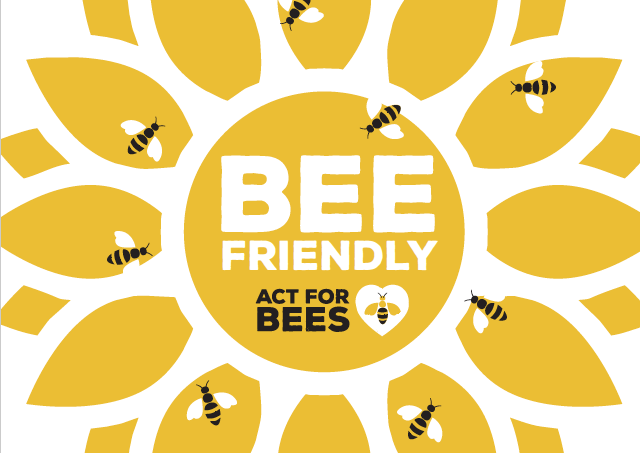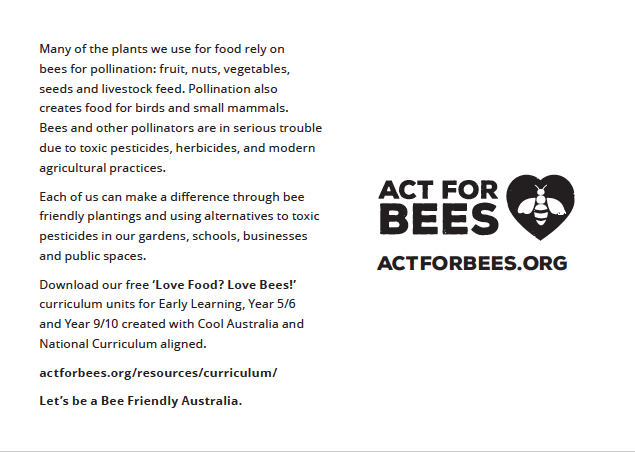 Our 'ACT for Bees' group visits markets, Festivals & Sustainability Conferences with activities for children 'Be a Bee andPollinate the apple trees!' teaching about the importancof bees for pollination of our food and ways to be 'Bee Friendly'.
KEEP THE GLOBAL HIVE ALIVE: BEE FRIENDLY AUSTRALIA
A Community Arts Project is showing how vital bees are for the pollination of a whopping 2/3 of our food production. Fruit and nuts including apples, almonds, avocados, cherries, kiwifruit, apricots, peanuts, blueberries, plums, mangos, oranges, peaches, pears, watermelon and honeydew melons. Vegetables and seeds including beans, broccoli, carrots, cucumbers, cauliflower, celery, onions, pumpkins, squash and sunflowers. Livestock feed including clover and lucerne all depend on honeybees for pollination.
What is your favourite food on the Global Hive?