We have partnered with  'Cool Australia- Learn for Life' to create an exciting 'Love Food? Love Bees!' curriculums for Early Childhood, years 5/6 and High School as well.  They can be downloaded from the Cool Australia website and taken straight into the classroom & also practically outside in the garden! We love the way Cool Australia curriculums are easy to use, focussed on sustainability and empower students to take action for the good of the world. Check out these curriculum materials through our website.
March 2021. We've just received a report from Cool Australia about the reach of  the 'Love Food? Love Bees!' education material reaching 132,329 students this past year and since August 2016, 390.887 student have participated in this program Australia wide!
We've just added a unit on Australian native bees to the Year 5/6 curriculum which has already had very positive reviews from teachers.Well worth using in spring when the native bees emerge again.
Check the FREE resources out and find out why they are one of Cool Australia's top performing resources.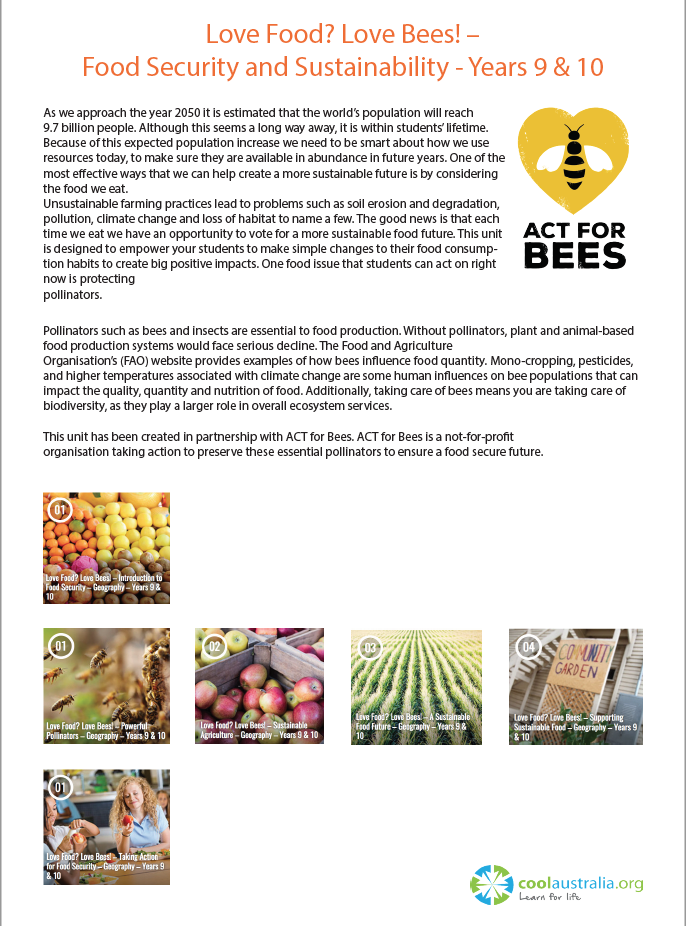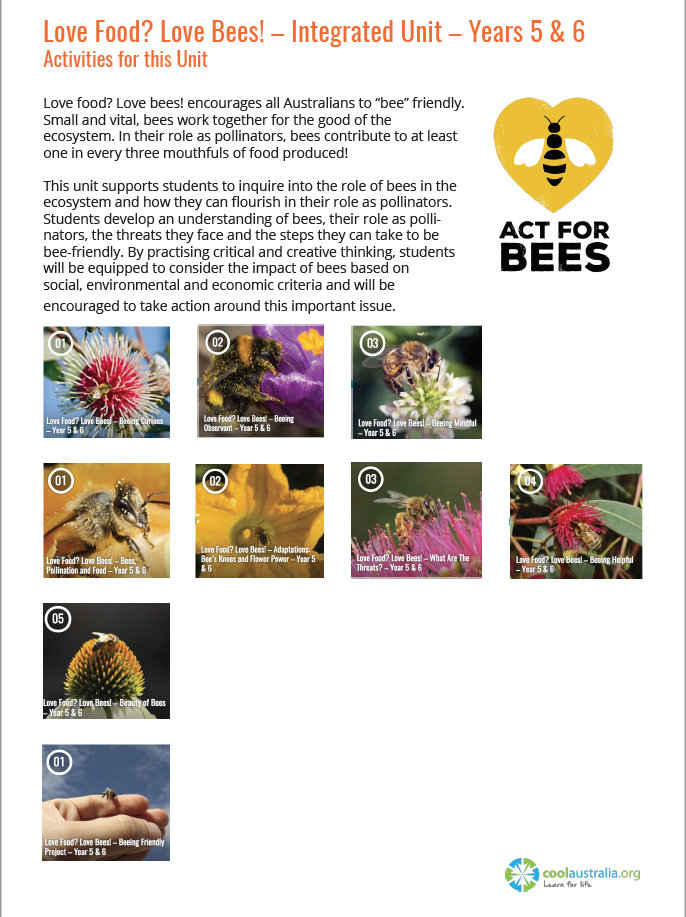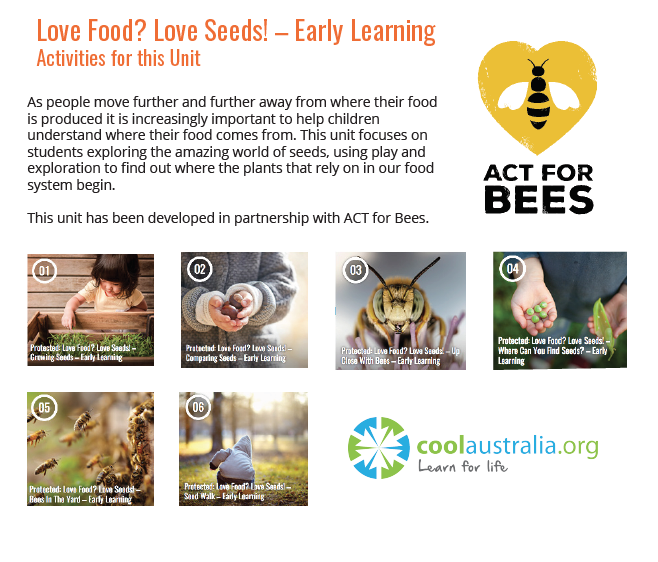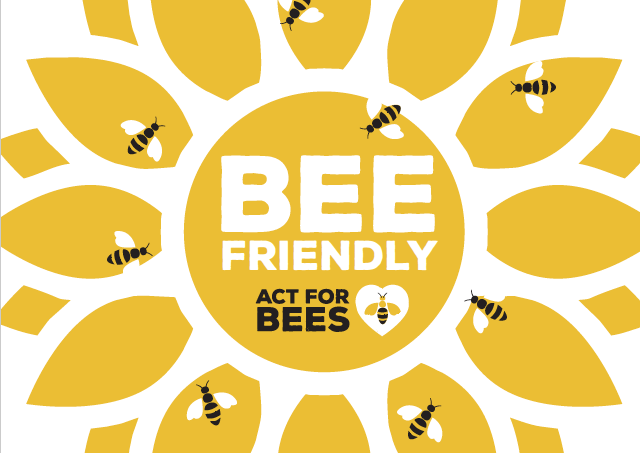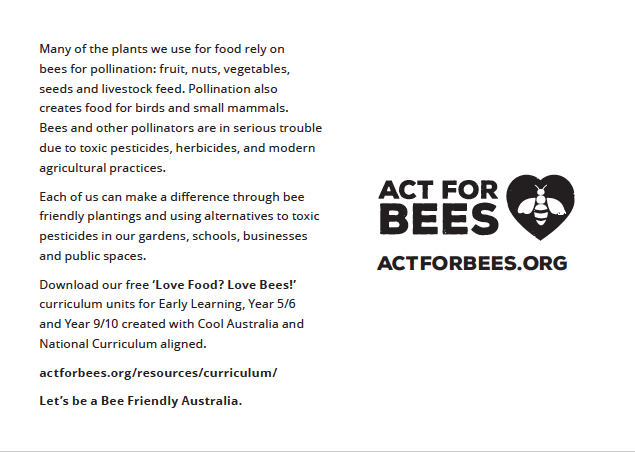 Our 'ACT for Bees' group visits markets, Festivals & Sustainability Conferences with activities for children 'Be a Bee andPollinate the apple trees!' teaching about the importancof bees for pollination of our food and ways to be 'Bee Friendly'.
KEEP THE GLOBAL HIVE ALIVE: BEE FRIENDLY AUSTRALIA
A Community Arts Project is showing how vital bees are for the pollination of a whopping 2/3 of our food production. Fruit and nuts including apples, almonds, avocados, cherries, kiwifruit, apricots, peanuts, blueberries, plums, mangos, oranges, peaches, pears, watermelon and honeydew melons. Vegetables and seeds including beans, broccoli, carrots, cucumbers, cauliflower, celery, onions, pumpkins, squash and sunflowers. Livestock feed including clover and lucerne all depend on honeybees for pollination. More photos on our  Art for Bees page.
What is your favourite food on the Global Hive?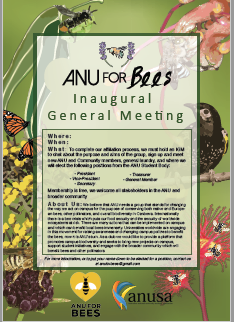 ACT for Bees partnerships: We are very excited that the first group to join us is ANU for Bees (Australian National University). They got off to a busy start at the end of last year by planning and planting a pollinator friendly garden around the Canberra Environment Centre thanks to a grant from the ACT Government. Well worth dropping by to see the buzz in the native plants and also the beautiful bee hotels.
World Bee Day celebrations
ACT for Bees was involved in BIG celebrations of pollinators at Parliament House and at the Swedish Embassy in 2018 & 2019. The Embassy of the Republic of Slovenia in Canberra, The Embassy of Sweden, The Embassy of Switzerland, and other Nordic Embassies including Denmark, Finland, Norway,  and Estonia, Parliament House, Canberra Region Beekeepers, Capital Region Farmers Market, Hall Rotary, Australian National Botanic Gardens and Bush Blitz, Wheen Bee Foundation, Australian Honey Bee Industry Association, Rotary for Bees, Pure Pod, CSIRO, IKEA and Bunnings.
Due to COVID-19 the World Bee Day 2020 had restrictions on large social gatherings, so an innovative approach of  The 2020 Global Online Waggle Dance Challenge is an attempt to achieve 20,000 waggle dance videos, from 20 countries, across 2020. Find out more here as it's still open for you to join!