ACT For Bees Success With ACT Government
Exciting news! The Australian Capital Territory (ACT) Government has adopted ACT for Bees additions in their review of the ACT Government MIS25 Urban Landscape Planting List.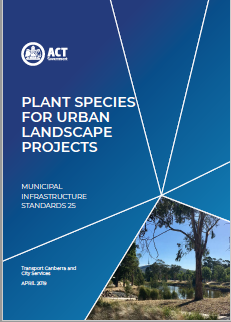 Developers and government bodies can only use plants on this list. The list now includes our data on flowering times, nectar, pollen, seed resources, the species of forager (whether it be bees, butterflies, birds) and habitat for native mammals. It guides choosing plants for flowering throughout the year, which species are the best for long periods of flowering and also indicates medium or high nectar and pollen production. The review focussed on selecting species which are suited for an increasingly hot climate.
We are working towards 'Bee Friendly Canberra'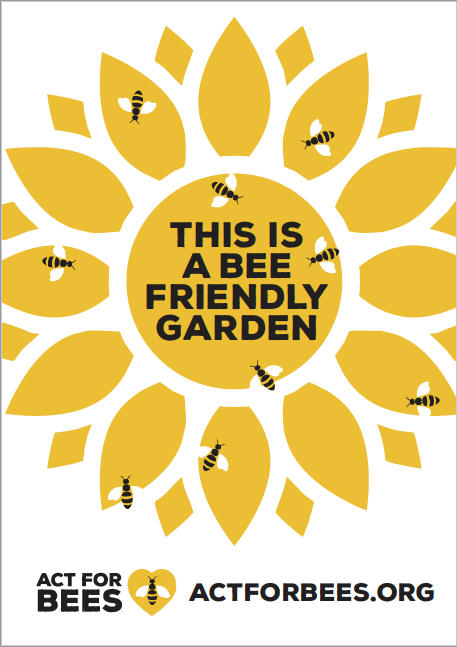 DEFINITION/DESCRIPTION OF A BEE (POLLINATOR) FRIENDLY ACT
A Bee-Friendly ACT focusses on improving the policies and practices of institutions and organisations in the ACT.
These include
Government – open spaces, public recreation parks,
Businesses – urban developers, horticulture, nurseries,
Agriculture – farmers, Canberra City Farm, ACT and Region Beekeepers
Educational institutions -, primary, secondary, tertiary (ANU, UC, ACU, CIT)
Community based organisations, Landcare, etc beekeepers.
In addition private gardens
Bee-Friendly COMMUNITY is on 'improving public and community gardens, citizen knowledge and behaviour'.
BEE FRIENDLY ACT DEFINED
HABITAT
Provide ideal pollinator-friendly habitat, including:
Diverse and abundant nectar and pollen from plants blooming in succession throughout the year
Water for drinking, nest-building, cooling and butterfly puddling
Undisturbed spaces (leaf and brush piles, unmown paddocks or paddock margins, nature strips, fallen trees and other dead wood) for nesting and wintering for wild pollinators
Is free or nearly free of pesticide use (-in farming, gardening, agriculture, seed and plant propagation, park and open space landscape maintenance etc)- see pest management below.
Is comprised of mostly native flowering plants, grasses, vines, shrubs, and trees in landscapes because many wild pollinators prefer or depend on the native plants with which they co-adapted
Connectivity between habitat areas to support pollinator movement and resilience
Where possible, designated pollinator zones in public spaces with signage to educate the public and build awareness; and
Safe and humane removal of honey bees when required.
Use integrated pesticide management practices- see more detail below
PEST MANAGEMENT
Integrated Pest Management (IPM) is a long-term approach to maintaining healthy landscapes and facilities that minimise risks to people and the environment by:
Identifying and removing the causes of pest problems rather than only attacking the symptoms (the pests).
Encouraging beneficial insect predators to help control pests naturally. Employing pest' natural enemies along with cultural, mechanical and physical controls when prevention is not enough.
Not using biocides that are harmful to bees, e.g. Neonicotinoids and only using them when no other method is feasible or effective.
WHY DOES ACT NEED TO BE BEE-FRIENDLY?
Our food depends on bees/pollinators. Nearly two thirds of our food production -fruit, nuts, vegetables, seeds, and livestock feed is dependent on the existence of bees and other pollinators. Urban agriculture is increasing in the ACT.
Overuse of pesticides, herbicides, modern agricultural and conventional gardening practices are killing our bees/pollinators or making them more vulnerable to disease and pests.
Human activity, urban development and modern agricultural practices are reducing the habitat and food sources for bees/pollinators, insects, birds and animals throughout the food chain.
Bees/pollinators increase the biodiversity and food supply for a diverse range of insects, birds, animals, reptiles and fish.
October 2019
Please contact us if your business, school or community group would like to join us! We will be creating a map of Bee Friendly sites. 
We're excited that this event sold out so quickly. Sorry if you missed out. If you're keen to know more, please sign up for our newsletters on the Contact page.
We will be filming the event and it will be available through our website, so keep an eye out for it on this page.
Thanks to Landcare ACT, Friends of Australian National Botanic Gardens and Hall Rotary for their support and all the speakers who have helped shape the event.
We acknowledge the impact of fires and drought across Australia on widespread communities. Many native forests have been burnt that are vital for the health and well being of native bees, European Honey bees and pollinators of many species that are crucial for biodiversity and healthy ecosystems.  It is now even more important for us to plant for and maintain our urban gardens and parklands to protect our bees, butterflies, birds and local wildlife.
Program Bees Butterflies Birds – Maximising biodiversity by supporting pollinators_pdf
We were very happy that Costa from Gardening Australia made the trip to Canberra to join us, inspire us  and run the networking session afterwards. Thanks so much to all the expert speakers who shared their experience in a very brief time! We have made a video of the event and it will be posted on a new page on our website 'Bees, Butterflies, Birds: Maximising Biodiversity by Supporting Pollinators'. In the meantime, you can start with Michael Fox of Pollinator Link  and Rachael Dawes from ACT Government Senior Director Urban Treescapes speaking about the Canberra Urban Planting List. Watch Professor Saul Cunningham, Director Australian National University Fenner School of Environment and Society for sharing your expertise on 'Climate Variability and Pollinators ' and Cormac Farrell the Head Beekeeper for Australian Parliament House beehives, also with broad experience in ecology speaking about 'City living for pollinators (food and accommodation. 
A message from Minister Gentleman who was to open the event. Message from Min to Bees, Butterflies, Birds Maximising Biodiversity by Supporting Pollinators
Hall Village 'Bee Friendly Community 'Charter
We, the community of Hall village and district, are committed to embracing bee friendly practices for the benefit of biodiversity , public health, water and soil health
We will establish and maintain plantings of pollinator safe habitat in public spaces and in our gardens.
Our beekeepers, the 'Hall Honeys', will collaborate to promote bee health in our community. They will exchange knowledge, abide by the Code of Practice for the Keeping of Bees in Residential Areas of the ACT and work together for the benefit of bees in our region.

We will actively promote awareness of the importance of bees and encourage 'bee friendly' practices, including:

·      responsible beekeeping
·      'bee friendly' gardens
·      'bee friendly' pest management
·      timely reporting of problems
We will promote awareness of our community's commitment to 'Bee Friendly' practices, acknowledge 'Bee Friendly' gardens, and encourage others to be 'Bee Friendly' through signage (in both public spaces and gardens), information on our web site and social media posts, and articles in Rural Fringe (our community newsletter).

🐝 Launch of Hall 'Bee Friendly' Village November 17th 2019   🐝

Progress to date: Feb 2020
·      over 90 households in our village (more than 90%) that have registered their gardens as "bee friendly".  They have installed "Bee Friendly Garden" signs and native bee hotels and receive regular communications on pollinators and actions they can take to promote their health.
·      engaged the support of a local indigenous leader to educate and advice us the practices and experiences of the Ngunnawal people in relation to pollinators
·      continued to promote community awareness and participation through articles in our community newspaper and through our Hall Honeys mailing list.
·      funded projects underway to install 20 native bee hotels in our public reserve spaces,  the planting of bee friendly gardens (with appropriate signage) along our main street, and development of the first stage of a "bee friendly" community garden.
·      established a community watering vehicle (1000l water container on a trailer) that is being actively used to water vulnerable trees in our public spaces so they get through the current tough conditions.

Partnered with ACT Govt at Bush Friendly Stall at 2016 Floriade and built a bee hotel for the stall which is now at 'Ginninderry' development in West Belconnen outside The Link.
We're collaborating with Ginninderry to create 'Pollinator Corridors' of year round flowering for bees and other pollinators, birds including threatened migratory species and small mammals.
Run a 'number of Bee Friendly Backyards' workshop at The Canberra Environment Centre.
Educated a range of organisations with our  30 minute 'Bee Friendly Gardens' PowerPoint. Please contact us if you would like us to come to your business and share the importance of bees and why we qall need to be taking action for them!
Visited a range of schools to share the wonder of bees with primary students. Please invite us along if you are doing a unit on bees and sustainability.
Attended Natural Beekeeping workshops with the Beekeepers of ACT Association.
Built a Warre Hive with Warren for display at education stalls.
'The Bee Friendly Plant Stall' at The Orana Spring Fair has a section with a wide range of plants that are pesticide free and fantastic for bees.  Weston (ACT) 2nd Sunday in November (13th November 2016).
'Back To Earth' Radio program 98.3fm Fridays at 2pm once a Season Rhonda Whetham and Warren Clendenning talk about Bees Business…
Appeared in 'The Hungry Gardener' podcast speaking about the importance of bees for our world .
Created a short puppet play on the importance of bees with students to present to 'Kids Teaching Kids 2015 Week' at the National Zoo & Aquarium.
Marched for 'The Bees' at The Peoples Climate March in February 2016
ACT for Bees and Canberra Biodynamic Gardening group have recently started managing the Weston Community Orchard  in co-operation with ACT Govt. Come and join us at working bees to learn more about organic and biodynamic methods to maintain fruit trees and restore the health of the soil.! The 3rd Sunday of the month. See Facebook Weston Community Orchard for details
We have partnered with  'Cool Australia- Learn for Life' to create an exciting 'Love Food? Love Bees!' curriculums for Early Childhood, years 5/6 and High School as well.  They can be downloaded from the Cool Australia website and taken straight into the classroom & also practically outside in the garden! We love the way Cool Australia curriculums are easy to use, focussed on sustainability and empower students to take action for the good of the world. Check out these curriculum materials through our website.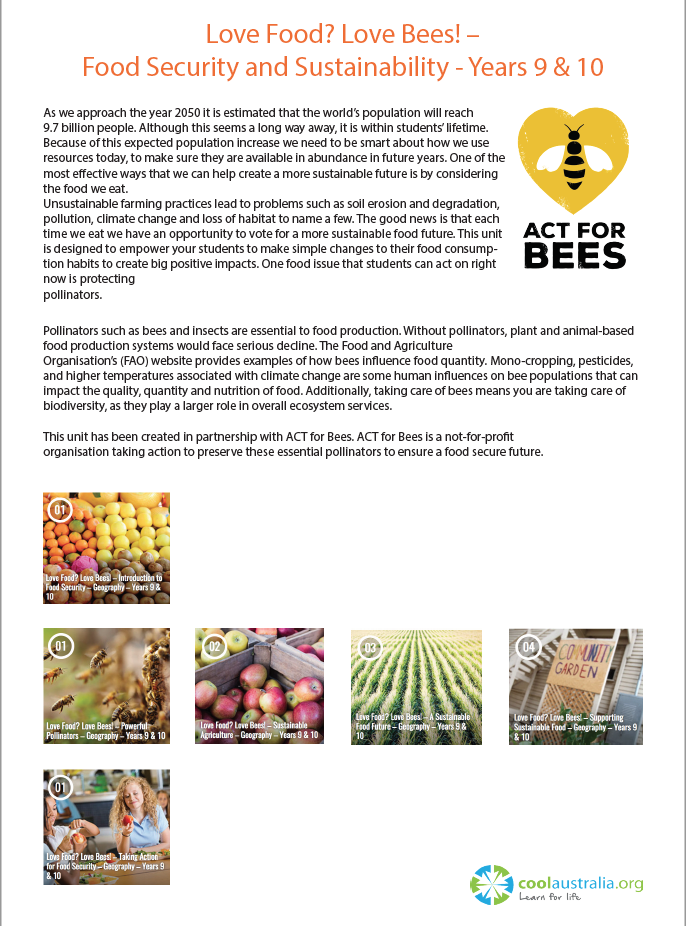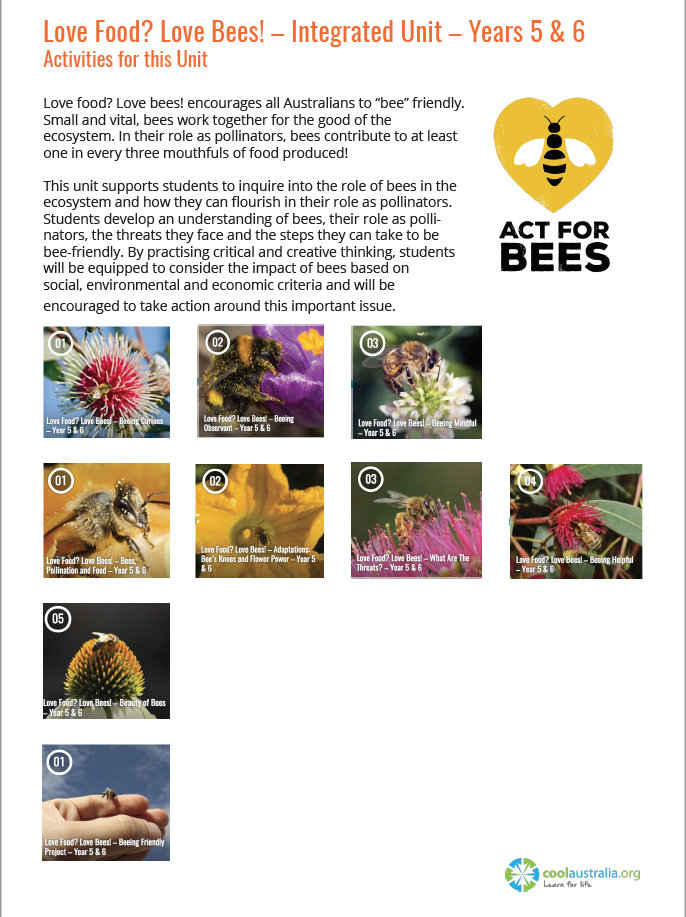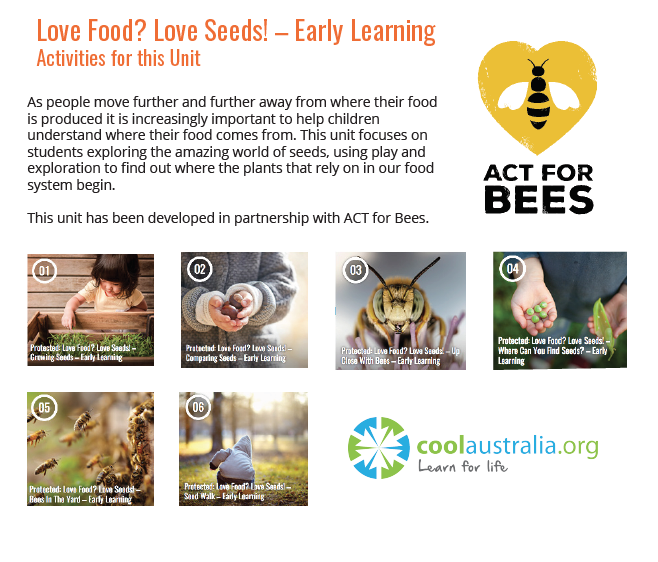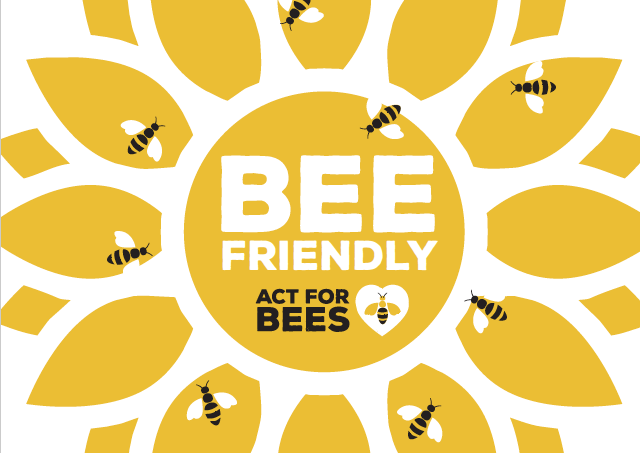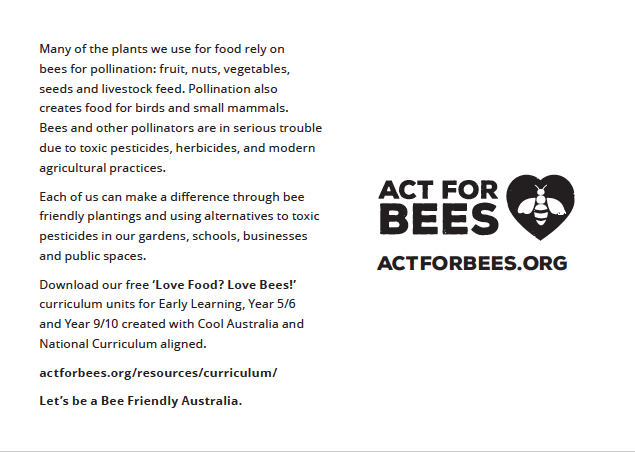 Our 'ACT for Bees' group visits markets, Festivals & Sustainability Conferences with activities for children 'Be a Bee andPollinate the apple trees!' teaching about the importancof bees for pollination of our food and ways to be 'Bee Friendly'.
KEEP THE GLOBAL HIVE ALIVE: BEE FRIENDLY AUSTRALIA
A Community Arts Project is showing how vital bees are for the pollination of a whopping 2/3 of our food production. Fruit and nuts including apples, almonds, avocados, cherries, kiwifruit, apricots, peanuts, blueberries, plums, mangos, oranges, peaches, pears, watermelon and honeydew melons. Vegetables and seeds including beans, broccoli, carrots, cucumbers, cauliflower, celery, onions, pumpkins, squash and sunflowers. Livestock feed including clover and lucerne all depend on honeybees for pollination. More photos on our  Art for Bees page.
What is your favourite food on the Global Hive?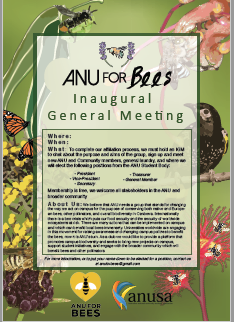 ACT for Bees partnerships: We are very excited that the first group to join us is ANU for Bees (Australian National University)They got off to a busy start at the end of last year by planning and planting a pollinator friendly garden around the Canberra Environment Centre thanks to a grant from the ACT Government.Stay tuned for more pollinator plantings on World Bee Day Sunday May 19th 2019.
World Bee Day celebrations Sunday May 19th 2019:
Keep your ears open for the buzz which is happening as we again prepare for BIG celebrations of pollinators at Parliament House and at the Swedish Embassy. The Embassy of the Republic of Slovenia in Canberra, The Embassy of Sweden, The Embassy of Switzerland, and other Nordic Embassies including Denmark,Finland, Norway,  and Estonia, Parliament House, Canberra Region Beekeepers, Capital Region Farmers Market, Hall Rotary, Australian National Botanic Gardens and Bush Blitz, Wheen Bee Foundation, Australian Honey Bee Industry Association, Rotary for Bees, Pure Pod, CSIRO, IKEA and Bunnings.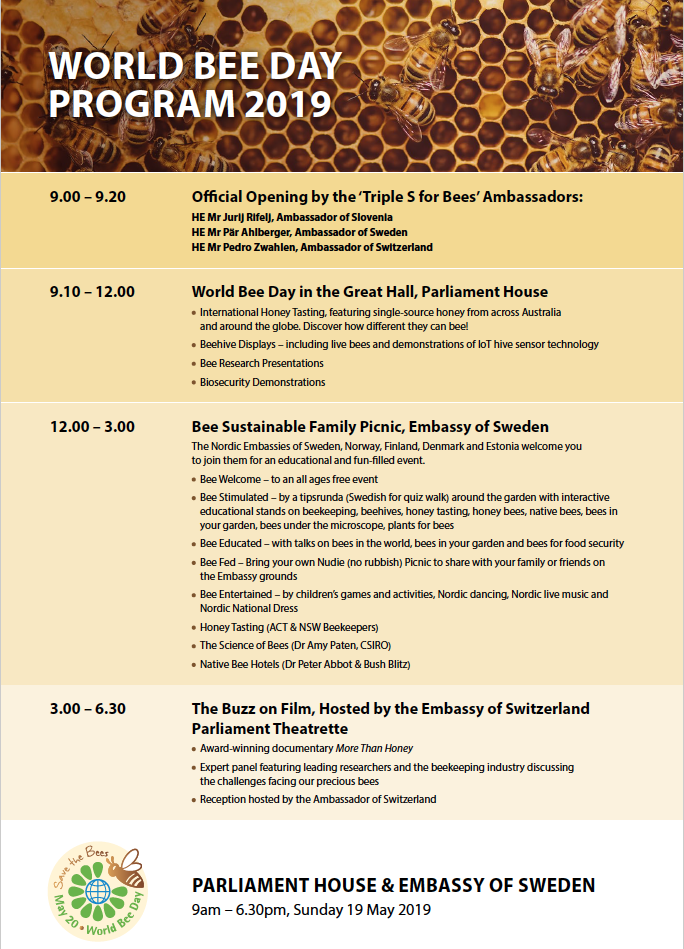 BeeSustainable, World Bee Day 18 May 2019
The Nordic Embassies of Sweden, Norway, Finland, Denmark and Estonia welcome you to celebrate BeeSustainable, World Bee Day 2019
Join us for an educational and fun-filled event 12pm – 3pm on Sunday, 19th of May 2019, at the Embassy of Sweden in Canberra.
Bee Stimulated – by a tipsrunda (Swedish for quiz walk) around the garden with interactive educational stands on beekeeping, beehives, honey tasting, honey bees, native bees, bees in your garden, bees under the microscope, plants for bees.
Bee Educated – with talks on bees in the world, bees in your garden and bees for food security
ACT for Bees Facebook page and World Bee Day Australia 2019