What is the problem with using pesticides?

"The world's honey bees have been in steep decline for over a decade, with extraordinary losses in population witnessed across the globe resulting in a 30 percent loss of some honey bee colonies every year. Beekeepers across the U.S. and Europe have reported these mass bee deaths, known as 'colony collapse' since 2006 and in the absence of any singular explanation, the disturbing decline was dubbed 'Colony Collapse Disorder' or CCD.Native bee populations have fallen by an estimated 40 to 50 percent globally, according to Hogendoorn and she said that there is every indication the same trend is happening in Australia."We've got 1700 native bee species, we haven't even described them all yet. They're solitary and not introduced to Australia and they're most definitely in decline," she said. Bees and other pollinators are threatened with extinction. A growing body of science implicates pesticides called neonicotinoids and glyphosate as key factors in their decline.
Neonicotinoids (aka neonics) are one of the most common pesticides used in agriculture and are also used extensively by home and garden centres. Unbeknownst to consumers, many "bee-friendly" garden plants have been pre-treated with these bee-killing pesticides. Exposure to neonics can kill bees directly and also makes them more susceptible to other impacts like pests, diseases, loss of habitat and a changing climate.Neonicotinoids make up about 30 per cent of the global pesticide market. Plants grown from neonicotinoid-treated seed have the pesticide in all their tissues, including the nectar and pollen.
Neonicotinoids are systemic pesticides. Often, they are used to coat seeds to protect them when they are planted in the ground. After the seed germinates, the pesticide spreads throughout the growing plant and guards it against nibbling insects. But the insecticide is also present in the nectar and pollen, meaning pollinators get dosed, too. Many studies have shown that the chemicals can affect the ability of honey bees to learn and forage, although industry scientists have disputed whether the experiments are realistic enough."
Avoid products that contain Acetamidprid, Imidacloprid, Clothianidin, Thiamethodoxam. Here is the list of the most common Australian Neonicotinoids brand names.
The Task Force on Systemic Pesticides website has excellent resources including a PowerPoint that you can download that clearly explains Neonicotinoids. The Worldwide Integrated Assessment of the Impact of Systemic Pesticides on Biodiversity and Ecosystems (WIA) has made a synthesis of 1,121 published peer-reviewed studies spanning the last five years, including industry-sponsored ones. It is the single most comprehensive study of neonics ever undertaken, is peer reviewed, and published as open access so that the findings and the source material can be thoroughly examined by others.
Task Force on Systemic Pesticides – effects of neonics on biodiversity poster 
2020 World Bee Day We-BEE-Nar with Dr Andrew Barron- Well worth watching as Dr Andrew Barron is an Australian neuroethologist at Macquarie University studying the neural mechanisms of natural animal behaviour. He is conducting research to improve honey bee health and welfare including how bees and bee colonies are impacted by pesticide and disease stressors, and how we might best intervene to help colonies under stress.
Australia's bees aren't dying but they're in trouble 
Friends of the Earth Australia: Bees and Pesticides: A search for bees on FoE's Australian Pesticide Map, reveals that Fipronil has been behind more bee deaths. Fipronil is registered for use on a variety of crops such as Asparagus, Bananas, Brassicas, Cotton, Forestry Plantations, Ginger, Grapevines, Pastures/Sorghum, Potatoes, Sweet Potatoes, Mushroom, Sugarcane, Swede and Turnips. It is also registered for use as an ant (incl. Fire Ants) and termite killer and used on a variety of turf applications including golf courses."THERE ARE NO REGULATIONS IN PLACE IN AUSTRALIA THAT REQUIRE BIOCIDE INFORMATION TO BE REPORTED AND THERE ARE NO GOVERNMENT OR PRIVATE BODIES WHO HAVE RESPONSIBILITY FOR MONITORING BIOCIDE APPLICATION."
The Australian Pesticides and Veterinary Medicines Authority (APVMA) is undertaking a review of pesticides called neonicotinoids. More info here.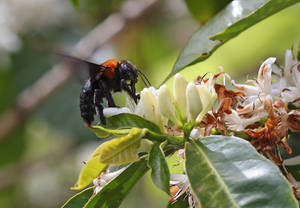 Watch out for pollinators!
Pollinators vital to our food supply under threat