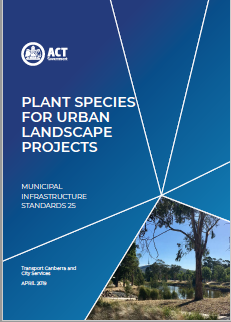 Developers and government bodies can only use plants on
this list
. The list now includes our data on flowering times, nectar, pollen, seed resources, the species of forager (whether it be bees, butterflies, birds) and habitat for native mammals. It guides choosing plants for flowering throughout the year, which species are the best for long periods of flowering and also indicates medium or high nectar and pollen production. The review focussed on selecting species which are suited for an increasingly hot climate.
The wattles around us are starting to shine and their pollen is an excellent source fo protein for the bees. Local natives are so good to plant as they are hardy and support the local bees. I've been noticing a number of beautiful 'Bee Friendly Gardens' are looking very dry and losing plants. It's time for a give our gardens a good soak before the Spring warmth comes so the flowers have good nutrition.
Our aim of a Bee Friendly Canberra is moving ahead in all sorts of ways.
World Bee Day celebrations in May were a great success and it's heartening to hear feedback about the events. Also there are a number of schools who are including
'Love Food? Love Bees!
in their curriculum and planting more forage for pollinators in their schools as part of a kitchen garden and sustainability programs.
Keep an eye out for a growing number of businesses around Canberra with honeybee hives on their rooftop and more plantings for pollinators. Knight Frank commercial real estate launched  'bee awareness' event during World Bee Day week by inviting Doug Purdie of Rooftop Bees in Sydney to launch the rooftop hive and also a series of talks and workshops with bees as the focus. They're using
ACT for Bees planting guide
to increase the number of flowering natives around their building to feed their bees.
As part of World Bee Day celebrations Ginninderry organised a wonderful '
Don't Worry, Bee Happy!
' community planting for bees event at Strathnairn Gallery which has revamped the entrance to the gallery and will look fabulous in the Spring.  Enthusiastic children had great fun painting, planting, singing, being bees and peeking into Rob's Warre bee hive and learning the mysteries that happen inside those boxes and tasting fresh honeycomb straight from the hive (no bees!)
Canberra Environm
ent Centre
has been busy creating a beautiful 'Bee friendly Garden' with excellent bee hotels for the growing number of native bees. They will be running a Bee Friendly Gardens workshop in Australian Pollinator Week to share what they have learnt and what you can do in your garden for bees and pollinators.
Megan Halcroft who founded Australian Pollinator Week and done fantastic work on education about native bees has just announced that the Wheen Bee Foundation will be the custodian of Australian Pollinator week with a new website at the end of September, 
Australian Pollinator Week
and
Wild Pollinator Count
are on
November 10-17th.
Would you like to join in and plan an event? Could be as easy as a few friends getting together and planting a few more 'Bee Safe plants' in your garden and listening to a story about bees.
The Australian Native Bee Association has also been launched and their very interesting
Cross Pollinator newsletter
is available for a short time to non members. There are a number of articles and links to native bees and pollination which are worth following up.
I've been very impressed with
Farmer Managed Natural Regeneration
 through World Vision and the incredible change that's happened in the most arid landscapes in Africa through planting trees. A recent study
Plant a trillion trees
showed how planting trees can restore balance to the climate and restore water and soil health.
Canberra Dendy cinema has a couple of great films on this week:
Wednesday 31st July 7pm Honeyland  follows one woman's struggle to save her beloved wild bees in remote North Macedonia. This gorgeously-shot documentary is alread
y a strong Oscars contender.
Take a broken-down 200-acre property that has been transformed into an incredibly lush and diverse biodynamic farm over eight years and capture it all on film and you get The Biggest Little Farm. Please check Dendy website next Monday 5th August to confirm date and time.
The Biggest Little Farm
Sunday August 4th 2pm & Sat 17th 4pm
(Check
Dendy
website)Take a broken-down 200-acre property that has been transformed into an incredibly lush and diverse biodynamic farm over eight years and capture it all on film and you get The Biggest Little Farm.  It is a heartfelt, inspiring film which shows that a shift in consciousness can change the world — or at least one small patch of it.Closer to home in Canberra: The
Weston Community Orchard,
formerly part of Weston CIT Horticultural training orchard will have their next W
orking Bee
Sunday August 18th 10-3pm
.  Since 2016 members of the community have been hard at work restoring the orchard to a productive, diverse and rich habitat. Instead of pesticides, herbicides or fungicides, a range of Biodynamic preparations to enhance the vitality and ecology of the soil and fruit trees have been used.  Come and join in the fun, learn new skills and be part of an exciting community venture. Keep in touch through Facebook: Weston Community Orchard.For
REAL TAKE HOME action on making the world better for bees 
Learning from the Bees
conference is on in
Berlin August 31- Sept 2nd.
Beekeepers, foresters, farmers, and others join together to address failing systems and reimagine a better future for the bees and a greener planet, with an emphasis on audience engagement and 
Zeidlerei
, traditional tree beekeeping. (29th/30th August)
Prof. Thomas Seeley
 will share insights from his latest book. 
Torben Schiffer
 will share his latest research about climatic conditions in different hives.
Some familiar faces will return to the main stage: 
Jacqueline Freeman
,
Johannes Wirz
, and of course 
Heidi Herrmann
 and 
Jonathan Powell
 from Natural Beekeeping Trust. Additionally, there will be some 20+ other scientists, 
Zeidlers
, conservationists, activists, spiritualists, and just plain ol' bee lovers, who will share stories, expertise, and advice on such topics as ecosystem regeneration, rewilding bees, climatic conditions in different hive types, awakening one's inner activist, and more. If you come, you can even apply to present your project from the main stage during 
Speed BEE Talks
.
Join the conversation and then return home, equipped with ideas, best practices, advice, and resources to spread natural beekeeping in your community.Tickets are on sale until 15 August: 198€ (conference) and 396€ (
Zeidlerei
 workshop). Groups of 5+ save: 178€ (conference) and 384€ (
Zeidlerei
 workshop).For more information, visit 
www.LearningFromTheBeesBerlin.com
.
Buy tickets 
here
.