We hope that you and all your loved ones are well and finding some joy in your new routines during lockdown. Are the honey bees buzzing in your garden? Have you spotted your first moth or dragonfly? Seen some native bees? Spring is here in all its riotous colour and with that comes hope and inspiration as well as lots of pollinators. In these times of uncertainty, when so many people around Australia have endured extended periods of lockdown, it's some comfort to savour the floriferous abundance of spring and the return of the insect buzz. As Michael McCarthy wrote "It is nature which is the true haven for our psyches …."[1]
Did you know that there are more than 300,000 known species of plants which have flowers as their reproductive organs? These flowers come in all shapes and sizes and colours. Imagine a world where there was only green! Flowers have evolved to make themselves attractive to pollinators and different flowers may be attractive to particular insects. Some Australian native plants are dependant on specific bees or other pollinators for reproduction. But don't worry if you're unsure what to do to attract pollinators to your garden ̶ our resources on gardening for pollinators on our website will help you navigate through the best plant choices in the Canberra region. We're very excited about our newly updated Planting for Pollinators list with photographs of the flowers. And we're also excited to announce that on Thursday 9 September we're partnering with the Canberra Environment Centre for a virtual workshop on gardening for pollinators. Book your place here.
---
[1] Michael McCarthy, The Moth Snowstorm: Nature and Joy, John Murray Publishers 2013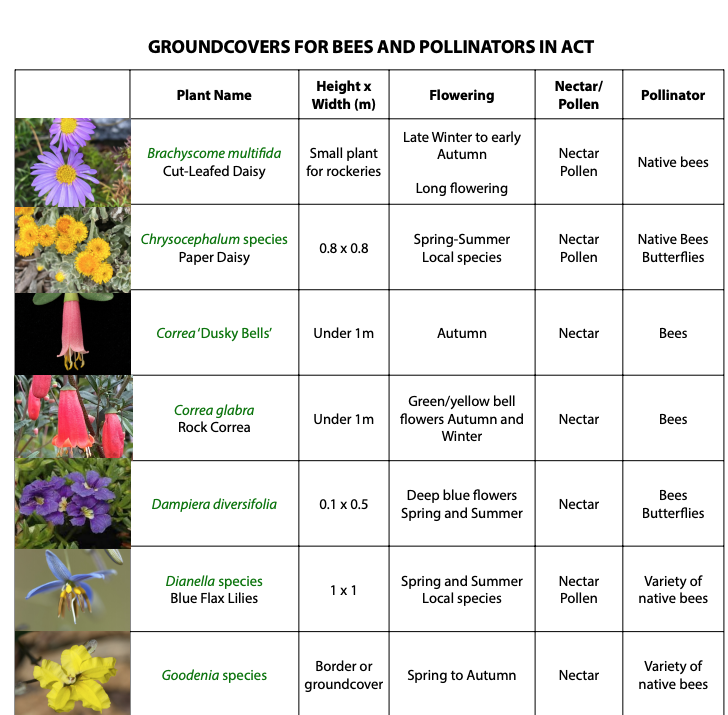 ---
Exciting education about native bees and environmental education
The lockdown restrictions mean that we cannot meet, gather and connect.  So we thought this issue we'd focus on education. The formal aspect of education comes to us in schools, colleges and universities. We have some highly regarded resources on our website for schools and we've recently added a new segment on native bees for the Year 5/6 curriculum.  If you've not checked it out yet, have a look here. For older learners (including adults!) we have lots of information on native bee identification, planting guides and building classy accommodation for native bees. As we have over 1700 different species of native bees, there's always something new to learn and what better place to start than here to find more resources on native bees including Peter Abbott's Australian National Botanic Gardens native bee cheat sheet.
Australian Association of Environmental Education (AAEE ) Conference 28-30 September, W.A –Mandjoogoordap: Changing Tides is a concept that aims to showcase examples of people coming together to create positive change through environmental education, along with innovative, practical and effective tools for change-making. This intergenerational, inclusive and inspiring event ensures an anticipated 100 delegates will be immersed in the latest thinking and exposed to the best information and resources. With sustainability professionals and educators from all sectors, including education, government, NGOs and community groups, ours is an audience that values authentic ideas and ways of working. great online option for those of us in lockdown, Online tickets available until September 26. This is a great PL experience for local government and organisations and there are great incentives for group bookings. Here is the program.
Interesting Reads
Suzanne Simard is a pioneer on the frontier of plant communication and intelligence; she's been compared to Rachel Carson, hailed as a scientist who conveys complex, technical ideas in a way that is dazzling and profound. Her work has influenced filmmakers (the Tree of Souls of James Cameron's Avatar) and her TED talks have been viewed by more than 10 million people worldwide. "By understanding [plants'] sentient qualities, our empathy and love for trees, plants, and forests will naturally deepen and find innovative solutions. Turning to the intelligence of nature itself is the key."
A very accessible read on the key findings of the UNICEF Report of the Impacts of Climate change on children world-wide.
Soil: The incredible story of what keeps the earth, and us, healthy by Matthew Evans, Murdoch Books. Evans is a former chef and food critic and has made many shows on food and farming for the ABC. In this ode to the thin veneer of Earth that gifts us life, Evans shows us that what we do in our backyards, on our farms, and what we put on our dinner tables really matters, and can be a source of hope.
My Forests: Travels with Trees by Janine Burke. Janine Burke is an art historian, curator and novelist. In this book Janine Burke presents the role of trees in contemporary life in a world where most people don't live in the wild, and their acquaintance with nature comes from many sources.