How can urban habitats be made to serve pollinator conservation? An informative 'roundtable' of researchers & ecologists world wide, including Caragh Threlfall (Uni of Melbourne)  focussing on how the story of the importance of pollinators can be told and supported. Dr Caragh Threlfall's research is focussed on understanding the impact of urban form on biodiversity, measuring the services biodiversity provides across urban landscapes, and assessing the effectiveness of urban greening for biodiversity conservation. Caragh Threlfall is also involved in Clean Air and Urban Landscapes Hub (CAUL) an interdisciplinary team funded under the Australian Governments National Environmental Science Program which is focussed on researching air quality, urban ecology, urban planning, urban design, public health and green infrastructure in Australia.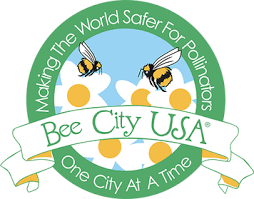 If you start losing pollinators it affects not only the biodiversity in the landscape as they are pollinating not only our food, but the food for a wide range of birds and small mammals. Often the species in decline have very close associations with the local indigenous plants of the region and they co-evolved together. According to community ecologist Dr. Mick Hanley, "Biodiversity needs to be incorporated into urban planning in a much more strategic way than it has been done so far." The  2016 study from Plymouth University found that cities can provide vital refuges for insect pollinators.
BEE Friendly cities include Paris, Tokyo, Toronto, Stroud UK and Shorewood USA. They have dramatically reduced pesticide use or banned neonicotinoid usage in public spaces including schools, parks and roadside plantings.  Here are Ways to reduce pesticide use in your local electorate.
For the Love of Bees- A City Bee Collaboration in Auckland NZ , working on a wide range of artistic and community projects to make Auckland the safest city for bees in the world. Check out their interactive beemap.
CHEMICAL FREE LANDCARE
Byron Shire Chemical Free Landcare has been focussed on an Ecological Restoration approach towards conservation rather than a 'War on Weeds'. Given the tropical climate and rapid growth of plants, it's very inspiring to see their commitment. With a focus on two key areas:
Bush Regeneration:

we seek to maximise habitat for all indigenous species (not just plants) and to contribute to the recognition of our place in the Australian environment.

Public Spaces:

we need to reduce environmental and community health risks during landscaping and management of our public spaces.
Well worth looking at their website and contacting them for more information.
Learn about 

companion planting

  where particular plants grown together flourish and are stronger.

Natural Pest & Weed Control

  shows how to encourage pest predators in your garden.

Integrated Pest Management

 is a great guide by Canberra Organic Growers Group about how to manage pests & diseases using a range of strategies.

BEE AWARE! Natural Pesticides Neem Oil and Pyrethrum are very toxic to bees. Try garlic spray for persistent unwelcome visitors!
Biodynamic preparations help to improve the vitality of the soil, so increasing the vigour of the plants to be more resistant to pests and diseases and also to increase the nutritional value of the food.
THE PROBLEM WITH PESTICIDES
Beyond Pesticides works with allies in protecting public health and the environment to lead the transition to a world free of toxic pesticides.
 Earth Justice : Bees' Toxic problem Infograph : Excellent graphics of the problem. 
The Worldwide Integrated Assessment of the Impact of Systemic Pesticides on Biodiversity and Ecosystems (WIA) has made a synthesis of 1,121 published peer-reviewed studies spanning the last five years, including industry-sponsored ones http://www.tfsp.info/worldwide-integrated-assessment/.A possible link between neonicotinoids and honey bee die- offs has led to a growing concern amongst beekeepers and environmentalists about the impact of these pesticides that are absorbed into the plant tissue and can be present in the pollen and nectar and can be present in lethal concentrations. Some can persist in the soil up to months after a single application and were also found in woody tissue for up to 6 years later.