Do you want to be a Backyard Beekeeper?
Consider becoming a 'bee carer' and focus on the bees wellbeing rather than on how much honey to harvest from their hive. Having bees in your garden will bring a health and vitality to your garden and your neighbourhood, enhancing the whole. And teach your children to love bees, not to be scared of them. Here's a great article: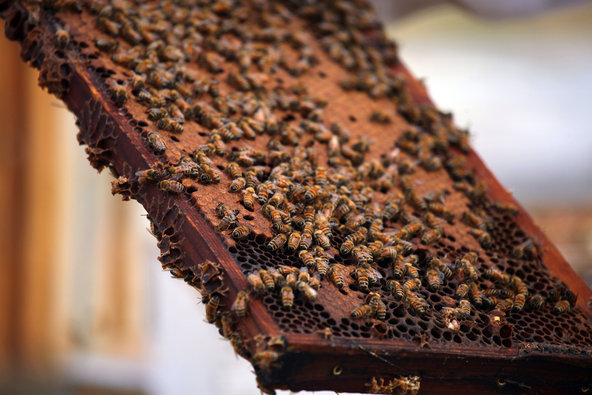 Teaching Children to Love Bees, Not Fear Them
Do a Beekeeping course and consider the range of hive options available which are different to the commonly used Langstroth Hive. There are Warre Hives, built with careful consideration of the 'natural hive' dimensions and the Kenyan Top Bar Hives, which is very easy to care for.
Australian Natural Beekeeping Courses & Resources
"Instead of focusing on how much honey we can get from the bees we must ask what can be done to protect, strengthen and heal them." …Gunther Hauk has a Biodynamic Honey Bee Sanctuary in USA that has outstanding results of bee resilience at a time when neighbour experienced the worst hive losses ever. They do not focus on viruses, bacteria, fungi – these are usually the symptoms of a deeper problem and only take over when an organism is weakened. Over the past 10 years winter losses have been between 5 and 10% – well below the national average of 33%.
– Natural combs are used, rather than foundation.
– Swarming is recognized as the natural form of colony reproduction.
– Clipping of queen's wings is prohibited.
– Regular and systematic queen replacement is prohibited.
– Pollen substitutes are prohibited.
– Beehives must be made of all natural materials, such as wood, straw, or clay.
– Artificial insemination is not used. Instead queens are allowed to fly free to mate.
– Grafting of larvae to produce queens is prohibited.
– No pesticides or antibiotics are allowed, although the use of natural organic acids such as formic and oxalic acid may be used for mite control.
– Honey may be transported in containers made of artificial materials but must be decanted into containers of glass or metal for retail sale.