Let's celebrate World Bee Day Wednesday May 20th by waggling for the bees!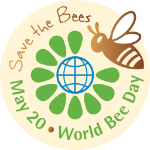 Join the Waggle Dance Challenge, an Australian-led global celebration of bees for World Bee Day!
The 2020 Global Online Waggle Dance Challenge is an attempt to achieve 20,000 waggle dance videos, from 20+ countries, in 20 days, ending on the 20th May 2020.Each video uploaded is in recognition of the 20,000+ bee species that exist globally.
Click here to Waggle for World Bee Day or find out more information and invite others to join in too! We're out to set a World Record for Waggling to celebrate bees and raise awareness of the important role they play for food security and ecosystem health. We would love to have you help us by dancing and uploading your video version of the waggle dance.
Costa Georgiadis is doing a wonderful Waggle Dance worth watching https://www.facebook.com/CostasWorld/