First World Bee Day in Canberra Sunday May 20th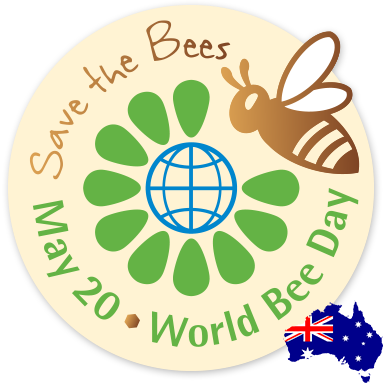 Bees Caring for Humankind. Humankind Caring for Bees.
A day of celebrations are being organised by the Slovenian, Swedish and Swiss Embassies in Canberra starting at 9.45 at the Slovenian Embassy.
The focus of the day is to celebrate sustainability and showcase sustainable practice for our daily lives. The day will be filled with activities for all ages. Bee there!
The day begins at the Slovenian Embassy, O'Malley  at 10 am with a special  Offical Opening,
EMBASSY OF THE REPUBLIC OF SLOVENIA, O'Malley 9:45 am – 1 pm
• Official opening of World Bee Day in Canberra
• Honey Breakfast – try our traditional sweet and healthy breakfast
• Honey jarring – bring a small jar for a honey jarring experience and take home honey donated by Canberra Urban Honey
• Children's activities – kids will have an opportunity to 'Be a bee and pollinate an apple tree' and join in other busy bee activities
• 10:45 – 'Bee Friendly Gardens' ACT for Bees will show simple steps we can all do to take care of pollinators in our gardens and
schools
Please register at Eventbrite your attendance
EMBASSY OF SWEDEN, Yarralumla 1 pm – 4 pm
The Embassy of Sweden, in partnership with, IKEA, H&M, National Botanic Garden, ACT Beekeepers Association, ANU Apiculture Society and the Scandinavian- Australian Association, invites you to the Embassy garden to enjoy an afternoon filled with fun activities for the whole family.
See the Embassy Facebook page for more information and ongoing updates: https://www.facebook.com/embassyofswedenincanberra/
Register your attendance at Eventbrite, tickets must be shown on entry (try to avoid printing and show your ticket on your phone):
PARLIAMENT OF AUSTRALIA 2:30 pm
The Parliamentary honey bees have had a productive year foraging within the Parliamentary gardens and surrounding areas to create an award-winning honey that's unique to our national capital. Our chefs have created a delicious trio of treats that will be available to purchase as part of a special afternoon tea to honour our hard-working bees. Bookings are recommended as spaces are limited – check https://www.aph.gov.au/Visit_Parliament for more details.
EMBASSY OF SWITZERLAND 5 pm
Fifty years ago, Albert Einstein is quoted to have said: "If bees were to disappear from the globe, mankind would only have four years left to live." To highlight the global threat to food production that is posed by the disappearance of up to 90% of bees worldwide, the Embassy of Switzerland, in conjunction with the ANU Film Group, will be screening the prize-winning documentary "More than Honey" by the Oscar-nominated Swiss filmmaker Markus Imhoof. The film will be followed by a short panel discussion on honeybee health issues and their potentially disastrous consequences, moderated by Cormac Farrell, President of the ACT Beekeepers Association. Drinks and snacks will be served. The event is free and no reservation is required.
• 5 pm – Screening of the film "More Than Honey" at Coombs Lecture Theatre, Fellows Rd, Acton ACT 2601
• 6.40 pm – Drinks and snacks, along with a short panel discussion on honey bee health issues and Q&A
WIN'S CREEK MEADERY, Murrumbateman 9 am – 4 pm
• Beekeeper's Breakfast 9:00 to 11:00 & Beekeeper's Lunch 11:00 to 4:00 – BOOKINGS REQUIRED
• Mead Tasting – Sample four varieties of mead and one honey liqueur served on our cypress or huon pine tasting paddles. • Indoor Cathedral Hive – View bees, hard at work, or perhaps staying warm if it's a cold day, through the windows of our indoor Cathedral Hive. • Screening of documentary Queen of the Sun. • Candle making workshop. • Apiary Gift Shop – handmade and bee-inspired giftware including beeswax candles and re-usable food wraps, ceramics, stained glass ornaments and quilts. More info https://www.facebook.com/events/604407809912664 PRE-EVENT
Saturday, 19 May from 9 am
CANBERRA MAGIC KITCHEN, Hackett
Talk about bees and keeping beehives at your home, visit of a Bee-friendly garden, take away bee friendly herbs. Free Kids activities and bee themed play. Vegan and gluten-free lunch available on spot.
For a full program follow us on Facebook page World Bee Day Australia